Développement de modèles QSPR pour la prédiction du point d'éclair de mélanges binaires organiques
Quantitative structure property relationships (QSPR) are increasingly used for the prediction of physico-chemical properties of pure compounds but only few were developed to predict the properties of mixtures. In this work, a series of existing and new formula were proposed to derive mixture descriptors to develop QSPR models for mixtures. These mixture descriptors were used to model the flash point of a series of 435 organic mixture compositions. Multilinear models were obtained using twelve different mathematical formulas taking into account the linear or non-linear dependences of the flash point with the concentration of each compound. The best model, issued from the newly proposed (x1d1 + x2d2)2 formula, was a four parameter model presenting good prediction capabilities (with a mean absolute error in prediction of 10.3°C) compared to existing predictive methods for both mixtures and pure compounds.
L'INERIS évalue et développe des méthodes prédictives QSPR (Quantitative Structure/ Property Relationship), complémentaires aux essais pour déterminer les propriétés physico-chimiques dangereuses de substances chimiques. Ces méthodes visent à relier de manière quantitative une propriété expérimentale à la structure moléculaire d'une substance. Avec l'application du règlement CLP au cas des mélanges au 1er juin 2015, des modèles QSPR pour la prédiction des points d'éclair (PE) de mélanges organiques inflammables, qui peuvent s'avérer plus dangereux que les produits purs les constituant, ont été développés. La prédiction des propriétés de mélanges constitue un vrai challenge puisqu'il faut disposer de bases de données expérimentales suffisamment importantes à la fois en termes de nombre de données et en termes de diversité de structures (que ce soit pour les produits purs ou pour les mélanges, avec des données pour différentes concentrations). Ce domaine de recherche est récent puisque les premières études proposant un modèle QSPR pour les mélanges datent de 2006 et un seul modèle de la littérature avait été recensé au démarrage des travaux de l'INERIS pour le PE. Après avoir développé des modèles prédictifs du PE à partir d'une approche combinant l'utilisation d'une loi de mélange avec des modèles QSPR pour les produits purs, une approche consistant à établir des modèles QSPR à partir du calcul de descripteurs de mélanges a été proposée.
Fichier principal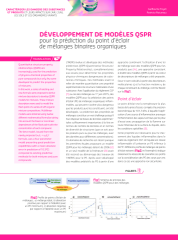 2016-484.pdf (452.15 Ko)
Télécharger le fichier
Origin : Publication funded by an institution