Une méthodologie d'aide à la décision pour évaluer des stratégies de gestion durable des risques naturels dans les zones urbaines
This paper attempts to provide a decision support framework that can help risk managers in urban areas to improve their decision-making processes related to sustainable management. Currently, risk management strategies should no longer be selected based primarily on economic and technical insight. Managers must address the sustainability of risk management by assessing the impacts of their decisions on the sustainable development of a given territory. These assessments require tools that allow comparisons of the effectiveness and the likely economic, social and ecological impacts of the alternative management strategies. Therefore, this paper reports a methodological and operational framework, which aims to incorporate sustainability principles in a particular decision by taking into account all the dimensions that affect sustainability. This paper is divided into two main parts: one on the theoretical aspects of the proposed methodology and the other on its application to a flood risk management case study. The results of the case study have shown how the methodology can be suitable for determining the most sustainable decision.
La société contemporaine manifeste une prise de conscience croissante visà- vis du développement durable en général, et de la durabilité des politiques de gestion des risques et des catastrophes d'origine naturelle en particulier. Plusieurs initiatives aussi bien internationales que nationales, académiques ou institutionnelles, se sont intéressées à la problématique de la Gestion durable des risques d'origine naturelle (GDRN). Ces initiatives ont tenté soit de définir la notion de GDRN, soit d'en proposer les principes fondamentaux, soit d'en suggérer des critères de base ou encore des indicateurs de performance capables d'aider les décideurs à appréhender la contribution potentielle de leurs politiques de gestion des risques au développement territorial durable. Malgré ces initiatives, le constat est que la prise de décision axée sur la durabilité est une vision récente dans le domaine de la gestion des risques plutôt régie par une vision aléa-centrée et elle est encore relativement peu théorisée. De fait, il n'existe pas d'outil universellement admis pour l'évaluation de la durabilité ni même de la performance des décisions de gestion des risques qui soit applicable indifféremment à chaque cas d'étude et quel que soit le type d'aléa. Pour apporter une réponse à cette problématique, il a été développé dans le cadre du projet INCERDD (prise en compte des incertitudes pour des décisions durables), dont l'INERIS est partenaire, une méthodologie pour l'évaluation de la durabilité des décisions de gestion des risques d'origine naturelle en milieu urbain.
Fichier principal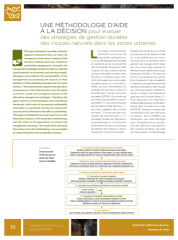 2015-400.pdf (115.11 Ko)
Télécharger le fichier
Origin : Publication funded by an institution