Estimation de l'exposition aux retardateurs de flamme bromés dans un immeuble de bureaux : couplage de mesures dans le sang, dans l'air et dans les poussières des bureaux
Polybromodiphenyl ethers are a family of 209 congeners widely used as brominated flame retardants in consumer products. They have the potential to be released into the environment and are suspected to be associated with endocrine disruption. PBDE are ubiquitous and persistent in environment, but the population exposure is not well known. The aim of this project was to compare measurements of PBDEs in dust and air from offices and in the blood of their occupants and to explain PBDE levels with declared exposures. The first step was to develop and optimize some sampling and analysis methods for blood, air and dust. Eleven congeners were studied. In the second step, about thirty volunteers and their own office were included in the study. PBDEs concentrations in blood ranged from 0,2-12,5 ng/g serum (mean is 2 ng/g serum), the major congener is BDE209. For most congeners, values are in the range of those found in European studies. The project does not reveal any significant relationship between concentrations in the air and the dust deposited in the investigated offices and blood levels of their occupants. Some relationships could be further investigated in a larger group using most specific tools and focusing on novel flame retardants.
Les polybromodiphényl éthers (PBDE), principaux retardateurs de flamme bromés (RFB), entrent dans la composition de nombreux produits manufacturés d'usage quotidien. Ils sont suspectés d'être des perturbateurs endocriniens et font l'objet d'interdictions ou de limitations d'usage variées au niveau international. Si les PBDE sont des substances ubiquitaires et persistantes dans l'environnement, leur devenir dans les milieux environnementaux est mal connu. L'exposition de la population générale aux PBDE reste à ce jour mal estimée, notamment en raison d'un manque de précision des méthodes d'estimation de l'exposition. L'alimentation est une voie d'exposition aux PBDE reconnue, mais de plus en plus d'études internationales mettent en évidence le rôle également important de l'exposition aux poussières de l'air intérieur, en particulier dans les immeubles de bureaux. Dans ce contexte de connaissances lacunaires, en particulier en France, le projet proposé par l'INERIS en 2007 consistait à conduire une étude de faisabilité visant à mieux connaître, pour les PBDE, le continuum source-exposition-dose interne chez l'homme, en couplant, pour la première fois en France, des mesures des PBDE dans les poussières et l'air des bureaux et celles dans le sang de leurs occupants. Coordinateur et promoteur du projet d'étude, l'INERIS a réalisé ces travaux, financés par l'Anses et le ministère chargé de l'Écologie, en partenariat avec Veolia Environnement Recherche et Innovation et le bureau d'études SEPIA Santé.
Fichier principal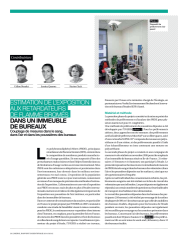 2012-510.pdf (155.01 Ko)
Télécharger le fichier
Origin : Publication funded by an institution