Utilisation d'une approche multicritère pour la sélection d'essais d'écotoxicité
Sensitivity of animal and plant communities to toxicants may vary significantly from one species to another. If testing is performed on one species, the high diversity in the sensitivity between species might result in a high level of uncertainty. It is therefore admitted that only a combination of several bioassays can give a clear view of the toxic effects of chemicals and/or environmental samples. The best approach is therefore to use a battery of tests with several species belonging to different taxonomic groups and trophic levels. Usually, two methods can be used for selecting bioassays in order to establish a test battery: i) an "a priori" method, in which the selection is made according to decision criteria such as standardization of the method, ecological relevance of test organisms, or cost, ii) an "a posteriori" method, in which the selection is made after performing multivariate analyses of test results obtained on a large series of bioassays. In the present study on soil quality, a methodological framework, based on the use of the multicriteria method SIRIS (System of Integration of Risk with Interaction of Scores) was applied to perform an "a priori " selection of bioassays among 115 relevant ecotoxicity tests, selected from an extensive literature review.
L'utilisation d'essais sur organismes biologiques est désormais reconnue comme l'un des éléments pertinents permettant de caractériser de façon satisfaisante la qualité des milieux. En effet, ces outils prennent en compte, à la fois la biodisponibilité - disponibilité pour les organismes vivants - des différentes substances chimiques présentes, mais également les effets de synergie ou d'antagonisme qui peuvent se produire entre ces dernières. Ces essais biologiques, initialement utilisés pour le contrôle des substances chimiques et des rejets en milieu aquatique, sont aujourd'hui appliqués à d'autres domaines tels que la caractérisation des sites et des sols pollués, la valorisation des boues en agriculture, la gestion des sédiments ainsi que la classifi cation des déchets.
Fichier principal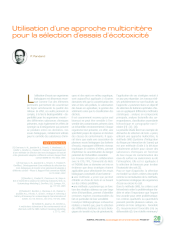 2010-464.pdf (146.85 Ko)
Télécharger le fichier
Origin : Publication funded by an institution