La toxicocinétique prédictive
Dose-effect relationships in chemical risk assessment are commonly derived through simple mathematical models linking directly effects with exposure dose. These models, usually calibrated with animal data, are specific to the tested chemical, the endpoint and the experimental protocol. Accounting for toxicokinetics permit to extrapolate results for different chemicals and different scenarios of exposure. Among toxicokinetics models, physiologically based pharmacockinetic (PBPK) models are based on a realistic description of anatomy, physiology and of the mechanisms involved in the disposition of a compound within an organism, i.e. absorption, distribution, metabolism, and excretion (ADME processes). We present three examples of use of toxicokinetics models in risk assessment. In the first one, we contributed to an INRS study aiming at evaluating workers cobalt exposure. The second one consists in the recent development of a generic lifetime PBPK model accounting for physiological differences between individuals. The third one exposes the calibration of a PBPK model based on imaging data to assess the kinetics of inhaled particles.
Les relations « dose-effet » développées en évaluation de risques des substances chimiques sont des modèles mathématiques simples liant la dose extérieure à un effet observé. Des modèles de toxicocinétique relient les doses et les scénarios d'exposition avec les concentrations au niveau des tissus cibles des substances. Ils permettent d'intégrer explicitement le temps et de prédire la réponse pour différentes durées d'expositions ou pour des expositions variables au cours du temps. Mais pour extrapoler entre différentes voies d'exposition, entre différentes espèces ou entre différents âges, il est nécessaire d'intégrer la physiologie de l'organisme étudié. L'étude en collaboration avec l'INRS à laquelle nous avons contribué consistait à développer et à exploiter un modèle toxicocinétique pour relier l'exposition atmosphérique de travailleurs au cobalt et sa concentration dans leurs urines.
Fichier principal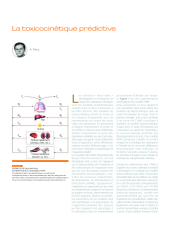 2010-461.pdf (101.21 Ko)
Télécharger le fichier
Origin : Publication funded by an institution