Développement d'une méthodologie pour la conduite en sécurité d'un réacteur continu et intensifié
Today, the chemical industry has to deal with new challenges. In addition to produce more and faster, safer and cleaner production must be performed. Process intensification can be considered as a method that allows to prevent and reduce risks related to major industrial accidents. Indeed significant progress has been reached in the development of new reactor technologies: today, miniaturised and continuous processes are being developed to attain better heat transfer and safer conditions compared to traditional batch or semi-batch operations. These performances authorise to modify operating conditions by employing higher concentrations and using less solvent and reaction volumes. In this field, new prototypes of "heat-exchanger/reactors" are a good illustration: built like a plate heat-exchanger, internal plates are designed in order to carry out chemical synthesis. But these new concepts of reactor design being less familiar than traditional ones, research work is necessary not only to assess their feasibility and potentialities but also to evaluate their efficiency and intrinsic characteristics. The aim of the study, sponsored by CNRS and INERIS, was therefore to develop a methodology in order to carry out safely an exothermic reaction in an intensified continuous reactor. It was established on a case study: the transposition of the esterification between propionic anhydride and 2-butanol in a new prototype of heat-exchanger/reactor, called Open Plate Reactor and developed by Alfa Laval. The approach was divided in three steps. In a first part, experimental data obtained by calorimetry allow to determine the potential hazard of the compounds as well as the reaction and a kinetic model is validated. In a second stage a dedicated software model is used to calculate optimal operating conditions for safe control. Experiments are then achieved to test these conditions. In the last step, the inherently safer behaviour of the reactor is evaluated in the case of probable malfunctions (fluids shutdown) due to the thermal inertia of the apparatus. Finally, the evolution of the temperature profiles is obtained by dynamic simulation. To complete this approach, INERIS has been involved since 2003, in the IMPULSE project, and works with several partners in order to develop a new risk analysis methodology dedicated to microreactor, intensified process and multiscale equipments.
De nombreux accidents industriels ont été provoqués par des réactions dont la mise en œuvre n'a pas été contrôlée : emballement thermique, réaction secondaire non contrôlée… Les conséquences de tels accidents sont souvent importantes dans la mesure où une réaction chimique non désirée ou non contrôlée est susceptible, suivant les réactifs mis en œuvre, de donner matière à la fois à une explosion et à l'émission de produits toxiques ou inflammables dans l'environnement. Parmi les causes identifiées d'accident, la plupart sont imputables à un défaut de conception ou de fonctionnement des installations et des procédés de fabrication. L'outil principal pour la mise en œuvre de synthèses chimiques dans le domaine de la chimie fine ou pharmaceutique reste aujourd'hui encore le réacteur discontinu. Ces réacteurs, même s'ils offrent les caractéristiques de flexibilité et de polyvalence requises, présentent un certain nombre de limitations technologiques. En particulier, les mauvaises conditions d'évacuation de la chaleur dégagée par les réactions chimiques posent un grave problème de sécurité. Une alternative à l'utilisation de ces réacteurs discontinus commence à se dessiner du fait de l'évolution récente des mini/micro technologies. L'idée consiste à transposer les réactions dans des réacteurs de type piston continu avec une intensification du procédé de synthèse chimique afin d'obtenir, par exemple, une meilleure maîtrise des échanges thermiques. Quelques appareils répondant à ces caractéristiques ont vu le jour. Du fait de leur caractère innovant, la mise en service de ces réacteurs nécessite le développement d'outils spécifiques dans les domaines du contrôle, de la simulation, mais également de la sécurité. En effet, même si ces nouvelles technologies sont, par leur conception, intrinsèquement plus sûres, il n'existe pas de méthode pour évaluer cette propriété. Les travaux menés en étroite collaboration avec le Laboratoire de Génie des Procédés de Toulouse et le CNRS ont eu pour objectif de développer une méthodologie d'étude de sécurité pour la mise en œuvre et la conduite de réactions exothermiques susceptibles de provoquer un emballement dans un réacteur de type continu intensifié. Les partenaires se sont également attachés à proposer des outils permettant de qualifier un éventuel caractère intrinsèquement plus sûr de ces appareils comparativement à des réacteurs discontinus. Pour ce faire, une réaction d'étude et un pilote de « réacteur/échangeur » ont été choisis comme cas d'étude et de démonstration. La démarche s'articule alors autour de trois points clés : la caractérisation de la réaction chimique, la transposition de cette synthèse dans le réacteur continu intensifié en fonctionnement normal et, enfin, l'étude du fonctionnement du réacteur en mode dégradé.
Fichier principal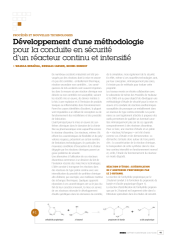 2008-441.pdf (209.96 Ko)
Télécharger le fichier
Origin : Publication funded by an institution