Recherche partenariale - Évaluer les conséquences d'un incendie d'entrepôt : le Projet FLUMilog
The FLUMILOG project is led by INERIS and aims at developing a single evaluation method of thermal effects in case of fire in a supply chain warehouse and at calculating safety distances to be kept around building. Project started in 2006 with the contribution of AFILOG, CNPP and CTICM - joined in 2007 by the IRSN - the supply chain industry was also associated (construction or exploitation). The first works consisted of an inventory then a comparison of the various currently used methods. They have been followed by a complementary study of divergences points and experimental tests. Afterwards, a test campaign of 8 fires at medium scale was realised in 2007/2008. For the needs of the study, a building of 96 m² and 336 m3 was specially realised and equipped with camcorder, infrared radiance camera, radiometers, radiative fluxmeters and temperature sensors. Tests allowed to measure fire effects according to different parameters : combustible, height and methods of storage, nature of stored goods. The obtained data (geometry and sizes of flames, influence of combustible layout, thermal flows…) served as references to adjust 3D models. The developed model will be the object of test series of validation to large scale in the future experimental platform (CERTES) located in Rouvroy-les-Merles (Picardy area). These tests will be the first ones to be realised in a true warehouse specially equipped. They will allow to estimate precisely the influence of the scale factor on the fire development and more particularly radiative fluxes received in the environment.
Le projet Flumilog a pour objectif le développement d'une méthode de référence pour déterminer le flux émis par un incendie d'entrepôt. Il est porté par quatre partenaires principaux (INERIS, CTICM, CNPP, AFILOG) rejoints en 2007 par l'IRSN, auxquels s'ajoute l'appui d'industriels du secteur de la logistique (construction ou exploitation). L'INERIS assure la coordination du projet, qui s'articule en sept étapes : ● La première étape consiste à faire un recensement et une confrontation des différentes méthodes utilisées, principalement par les trois organismes (INERIS, CTICM, CNPP), et à mettre en évidence les points de convergence et de divergence afin d'identifier les études complémentaires à mener. ● La deuxième étape concerne la réalisation de ces études complémentaires pour lever les principaux points de divergence. Ces études pourront être aussi bien numériques qu'expérimentales sur des maquettes à échelle réduite. Elles permettront de proposer une première définition de la méthode de calcul. ● La troisième étape porte sur la définition d'un cahier des charges pour la réalisation des essais de validation à grande échelle. ● La quatrième étape réside dans la mise en place de l'infrastructure pour la réalisation des essais à grande échelle. ● La cinquième étape concerne l'instrumentation et l'acquisition des données au cours des différents essais réalisés par les trois organismes. ● La sixième étape consiste à exploiter les résultats des essais pour vérifier la méthode de calcul proposée et à développer la méthode de référence. ● La septième étape porte sur la diffusion les connaissances acquises lors de ce projet. L'année 2007 a essentiellement été consacrée à trois tâches : ● Confrontation des méthodes et mise en place d'une première version de la méthode. ● Réalisation d'essais à moyenne échelle et de calculs 3D. ● Préparation des essais à l'échelle 1.
Fichier principal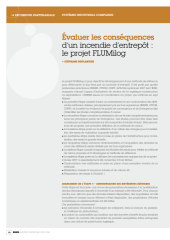 2008-438.pdf (224.15 Ko)
Télécharger le fichier
Origin : Publication funded by an institution