Détermination de la granulométrie des aérosols dans les émissions canalisées : cas d'une cimenterie
Monitoring emissions of particles with a diameter smaller than 10 um (PM10) has become of growing interest. However, measuring such particles is rather difficult, it appears as a result necessary to develop and assess measurement methods for the monitoring of PM10 from stack and fugitive emissions. The aim of the GAEC program [Granulometrie des Aerosols dans les Emissions Canalisees : Aerosol size distribution from stack emissions] is double : developing monitoring methods and improving knowledge on fine particulate stack emissions. Three institutes are involved in the program : Sechaud Environnement (formerly LECES), INERIS and CERTAM. This paper concems the results obtained from the first two steps of the program: a state of the art of the available techniques, the evaluation of the selected techniques during a sampling campaign at a cement plant.
Face à l'intérêt grandissant concernant les émissions de particules de diamètre inférieur à 10 um et aux difficultés rencontrées lors de la mesure de ces particules, des développements métrologiques et l'évaluation des méthodes de mesurage en émissions canalisées et diffuses sont nécessaires. Le projet GAEC [Granulométrie des Aérosols dans les Emissions Canalisées] s'inscrit dans ce double contexte de développement métrologique et d'amélioration, des connaissances sur les sources d'émission de particules fines. Il porte plus précisément sur la "Détermination de la granulométrie des aérosols dans les émissions industrielles canalisées : PM10, PM(2,5), PM(1), et PM(0,1)". Il réunit trois partenaires : Séchaud Environnement (anciennement LECES), INERIS et CERTAM. L'intervention proposée ici a pour objectif de rapporter les résultats obtenus lors des deux premières phases du projet, à savoir : une étude bibliographique de l'état de l'art sur les techniques de mesure disponibles,la mise en oeuvre des techniques retenues lors d'une campagne de mesure menée sur une cimenterie.
Fichier principal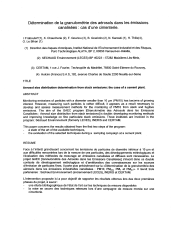 2006-288_hal.pdf (512.85 Ko)
Télécharger le fichier
Origin : Files produced by the author(s)