The MRPP : a powerful operational regulatory tool to prevent and manage post-mining risks
Even if most French mining sites are definitively closed, potential risks remain above the abandoned exploitations. In addition to surface instability, some mining sites may be affected by dangerous gas emissions or by flooding events or environmental degradations. Those kinds of disorders strongly influence the land use management of the concerned areas. In order to post and manage properly those risks, French State has developed a powerful operational regulatory tool : the MRPP (Mining Risk Prevention Plan). MRPP aims to identify the most sensitive areas subject to 'post mining hazards' and to define technical and regulation rules able to manage the principles of the future urbanism development on surface. The present paper proposes a methodological description of MRPP in order to explain the nature and objectives of the procedure.
Bien que la plupart des sites miniers français sont désormais fermés, les risques liés à ces anciennes exploitations n'ont pas pour autant disparu. Outre les risques de mouvements de terrain, certains sites peuvent être affectés par des émissions de gaz dangereux, des phénomènes de type inondations ou des impacts environnementaux parfois sensibles. Ce type de désordres influence fortement l'utilisation possible des terrains de surface concernés. Afin d'afficher et de gérer au mieux ces risques, l'état français a développé un outil opérationnel et réglementaire puissant : le PPRM (Plan de Prévention des Risques Miniers). Les objectifs du PPRM sont d'identifier les secteurs les plus sensibles aux risques liés à l'après-mine et de définir le cadre réglementaire permettant de gérer au mieux les principes du futur développement de l'occupation de surface. L'article propose une description méthodologique de la réalisation des PPRM afin d'en expliquer la nature et les objectifs.
Fichier principal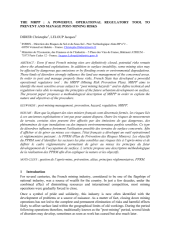 2005-236_hal.pdf (491.3 Ko)
Télécharger le fichier
Origin : Files produced by the author(s)