Caractérisation des flux de gaz émis par un sol pollué
Inhalation of volatile chemicals emitted from a contaminated soil might form a major exposure way for people living on site and in the surroundings. It is essential then to quantify ambient air concentrations for characterizing such exposure and assessing the risks for human health. Two approaches are commonly used : Direct ambient air monitoring only supplies punctual information which is strongly dependent on the prevailing meteorological conditions. Furthermore, concentrations lying below the analytical detection limits cannot be measured whereas they may be harmful to health, especially in the case of a long term exposure. Some exposure models include transfer functions which derive concentrations in the atmosphere from those measured in soil or in the soil pore-air. Such functions are based on simplified hypothesis and can ignore site characteristics likely to influence atmospheric dispersion. To overcome the limitations of both methods INERIS has examined the possibility of using atmospheric dispersion models. According to a preliminary modelling study, they might be useful tools to produce quantitative maps of short term worst case or long term concentrations, making it possible to delimit the impact area of the emissions from the soil. However, the reliability of the model predictions largely depend on the precision of the input data. In particular the pollution source should be defined very carefully. This is why INERIS has devised a strategy for getting a quantitative spatial representation of soil-to-air fluxes : it combines emission measurements with an original monitoring device and interpolation between the measured values using geostatistical techniques. This strategy was tested on an experimental site near Strasbourg (France).
L'inhalation de produits toxiques volatils émis par un sol contaminé peut se révéler une voie d'exposition prédominante pour les populations avoisinantes. La caractérisation d'une telle exposition est une étape indispensable de l'évaluation des risques pour la santé liés à ce sol, qui nécessite au préalable une estimation des concentrations atmosphériques. La modélisation de la dispersion atmosphérique constitue une alternative intéressante à la mesure directe dans l'air ambiant puisqu'elle fournit une représentation spatiale des concentrations et qu'elle est adaptée à une évaluation sur le long terme. Toutefois, la fiabilité et la précision des résultats dépendent grandement de la qualité des données d'entrée. Notre étude vise donc à développer une méthode efficace de caractérisation de la zone source. Cette méthode comprend des mesures ponctuelles in situ du flux de gaz émis par le sol à l'aide d'un dispositif élaboré par l'INERIS, et une interpolation entre ces mesures par les techniques de la géostatistique.
Fichier principal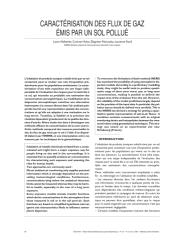 3_malherbe.pdf (150.15 Ko)
Télécharger le fichier
Origin : Files produced by the author(s)