NORMAN : un bilan après dix ans d'activité
In 2005, the EC funded the NORMAN project to promote the creation of a permanent network of reference laboratories and research centres, including academia, industry, standardization bodies and NGOs to deal with emerging substances in the environment. NORMAN's main objectives are to improve exchange of information on contaminants of emerging concern (CECs) and to foster harmonization of protocols and improvement of data quality. Today, NORMAN is an independent and highly recognized network of more than 70 members from all of Europe and beyond. The workshop that was organized to mark the 10th anniversary of the network was an opportunity to take stock of the work done so far and to discuss with the stakeholders (DG ENV, EEA, ECHA, national agencies) the way forward to improving EU-wide collaborations on CECs and related policy-making. It was recognised that a global economy results in worldwide exposure to chemical stressors, including CECs. There was consensus about the crucial role played by research for identification and regulation of CECs. This is even more important in the current context where important global changes of society and industrial activities are taking place as a result of population growth and an ageing population, climate change, new technologies and circular economy. After 10 years of activities, NORMAN has become an essential network in support of EU policies, which facilitates the transfer of state-of-the-art scientific knowledge to policy-makers and regulatory bodies.
Le réseau NORMAN a vu le jour en tant que consortium de 17 partenaires en réponse à un appel à projets européen. Dix ans plus tard, il est devenu, sous la coordination de l'Ineris, une association loi 1901 de plus de 70 adhérents (instituts de recherche, laboratoires de référence, agences de l'environnement et représentants de l'industrie) originaires de 21 pays, principalement en Europe mais également au-delà. Le séminaire organisé fin 2016 à Bruxelles pour fêter les dix ans d'existence du réseau a permis d'échanger avec les parties prenantes au niveau international sur les principaux enjeux et perspectives d'évolution à moyen et long terme.
Fichier principal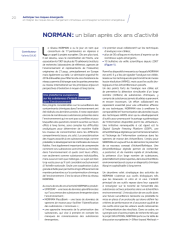 2018-385.pdf (572.96 Ko)
Télécharger le fichier
Origin : Publication funded by an institution