Vers une utilisation de liquides ioniques basés sur le cation pyrrolidinium pour sécuriser les batteries au lithium-ion ?
A comprehensive insight into the thermal hazard and combustion behaviour in fire conditions of a series of pyrrolidinium based ionic liquids (ILs) associated with a fluorine-containing anion targeted for energy storage applications is provided. The work has been carried out in collaboration with the German institute HUI. Results constitute a solid database for sustainable use of these alternative solvents to conventional organic carbonate to build up safer electrolytes for lithium and sodium batteries, integrating tradeoff between safety and functionality in terms of conductivity and viscosity of pyrrolidinium based ILs. Safety advantages are clearly rated with their bias according to changes in alkyl chain length, anion used and use or an ether function.
Depuis 2010, l'Ineris consolide l'évaluation des profils de danger présenté par les liquides ioniques (LIs) [1 ; 2 ] dont l'utilisation est étudiée pour diverses applications, en particulier le stockage d'énergie [3]. Pour les batteries lithium et sodium-ion, un intérêt de plus en plus marqué pour les LIs de type pyrrolidinium [PYR1,y]+[anion fluoré] est confirmé par la littérature. Dans le cadre d'une recherche collaborative avec l'institut de recherche allemand Helmoltz-Institut Ulm (HIU), l'Ineris a mené une étude paramétrique sur une dizaine de liquides ioniques appartenant à cette sous-famille de LIs construite sur le cation pyrrolidinium. Les structures chimiques détaillées des liquides ioniques étudiés ainsi que les paramètres de l'étude sont illustrés à la Figure 1.
Fichier principal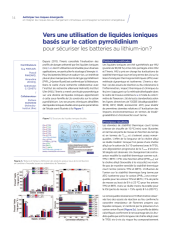 2018-382.pdf (621.28 Ko)
Télécharger le fichier
Origin : Publication funded by an institution