Méthode normalisée triade d'évaluation du risque pour les écosystèmes du sol au travers d'un cas appliqué
The International Standard ISO 19204 "Soil quality - Procedure for site specific ecological risk assessment of soil contamination (Soil quality TRIAD approach)" provides a methodological framework for the application of three combined lines of evidence (chemistry, ecotoxicology and ecology) to conduct a site specific ecological risk assessment. The soil quality TRIAD approach is conceived as a tiered stepwise approach. The assessment of this method by ensuring the feasibility and constraints of newly developed evaluation methods and the relevance of their implementation in a regulatory context is part of the mission of Ineris with respect to technical support to public authorities and industry. To achieve this goal, the method was applied on a selected field site. It was possible to achieve an assessment to the end, but it required the use of expert judgement since the method is not prescriptive enough with regards to certain points that are considered to be critical. Among these points can be quoted the interpretation of the calculated integrated risk score and the uncertainty threshold that triggers the use of more complex tools. Where possible, recommandations were made to improve the use of the method.
La méthode d'évaluation de qualité des sols TRIADE est une méthode internationale normalisée ISO 19204:2017 (ISO 2017) qui met en oeuvre différentes disciplines scientifiques pour réaliser une évaluation des risques pour les écosystèmes (ERE) pour le compartiment terrestre. Cette procédure standardisée vise à permettre l'exploitation optimale des données au travers d'un cadre conceptuel mais sans fixer dans le détail les modalités de mise en oeuvre. Dans sa mission d'appui aux pouvoirs publics et aux entreprises, l'Ineris s'assure des conditions d'applicabilité et des contraintes des méthodes d'évaluation nouvellement développées ainsi que de la pertinence de leur mise en oeuvre dans un contexte réglementaire. Ainsi, au travers du projet TRIPLE, et en partenariat avec l'Agence de l'environnement et de la maîtrise de l'énergie (Ademe), l'Ineris a mis en oeuvre la méthode sur un ancien site minier pollué majoritairement par des éléments-traces métalliques. L'objectif était d'évaluer l'applicabilité et la cohérence générale de la méthode ainsi que la pertinence et la complétude des différents éléments qui la composent dans ce cas concret.
Fichier principal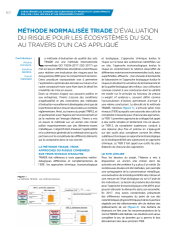 2017-438.pdf (102.46 Ko)
Télécharger le fichier
Origin : Publication funded by an institution