Modèle de la gestion de l'énergie sur l'ensemble du cycle de vie de l'épinoche à trois épines
A whole life-cycle bioenergetic model based on the dynamic energy budget (DEB) theory was developed for the threespined stickleback (Gasterosteus aculeatus). Experiments on growth and reproduction were performed: adult and juvenile growth, size at first reproduction and amount of eggs spawned by females were monitored under different feeding levels and water temperatures. The DEB parameters were estimated using Bayesian statistics based on the data produced during these experiments and on data found in the literature. The model fitted accurately the different datasets used for the calibration process and, in addition, predicted accurately the datasets used to assess its predictability. Our bioenergetic model of the whole life cycle of the three-spined stickleback accounting for environmental variations could contribute in many ways to improved ecological assessment: supporting change of scale from individual to populations, developing new biomarkers of exposure and effect, analysing ecotoxicity tests with biology-based models.
L'épinoche à trois épines (Gasterosteus aculeatus) est un petit poisson téléostéen qui constitue un composant majeur des chaînes alimentaires des écosystèmes aquatiques peu profonds dans l'hémisphère nord. Ce poisson est aussi un des modèles expérimentaux les plus utilisés en écologie, évolution et éthologie aquatique. En particulier, l'épinoche à trois épines est une espèce sentinelle utilisée pour la surveillance des milieux aquatiques et une des espèces de poissons dont la dynamique de population peut être étudiée en mésocosmes. Les modèles mathématiques sont de plus en plus utilisés en évaluation des risques, notamment pour extrapoler les effets mesurés sur des individus lors d'expériences en laboratoire aux conséquences à long terme sur la viabilité des populations. Dans ce contexte, les modèles mécanistes de gestion de l'énergie par les organismes, qui prennent en compte des facteurs environnementaux, offrent une description réaliste du cycle de vie des individus. Ils peuvent également contribuer à réduire les données nécessaires pour développer un modèle de dynamique de population lorsqu'ils relient explicitement l'alimentation, la croissance et la reproduction et identifier les effets des composés toxiques sur les processus physiologiques des organismes.
Fichier principal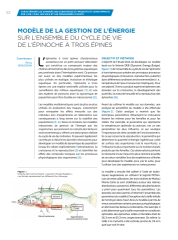 2017-434.pdf (134.22 Ko)
Télécharger le fichier
Origin : Publication funded by an institution