Développement de modèles QSPR pour la prédiction des propriétés de tensioactifs dérivés de sucres
Substitution of petroleum-based surfactants by biobased alternatives is a promising field of research and applications. Predictive models can help to identify good candidates for such substitution. But, no validated model has been identified for biobased surfactants. In AMPHIPRED project (2013-2016), based on a large dataset of 2626 experimental values, a series of new predictive quantitative structure-property relationships (QSPR) models were developed for four amphiphilic properties of sugar-based surfactants, an important family of biobased surfactants. A series of promising QSPR models were obtained for each property, from models with simple constitutional descriptors favouring easy applications, to quantum chemical based ones providing better predictive power. For the critical micelle concentration (CMC), the surface tension at CMC and the adsorption efficiency, multi-linear regressions were developed, to achieve quantitative predictions. For the Krafft temperature (TK), decision trees enabled qualitative prediction to evidence if TK is higher or lower than room temperature. These models open new perspectives towards in silico design and screening of new bio-based surfactants with target properties as studied in AMPHIFOAM project (2016-2019).
La substitution des ressources fossiles par des matières renouvelables, notamment issues de la biomasse, est un enjeu de recherche important. Si la majorité des tensioactifs utilisés dans les détergents et en cosmétique provient aujourd'hui des ressources fossiles, les tensioactifs issus de la bioraffinerie, notamment les tensioactifs dérivés de sucres, constituent de bons candidats pour substituer les tensioactifs pétro-sourcés. Aussi, l'Ineris s'est engagé dans le projet AMPHIPRED (2013-2016), financé par l'ITE PIVERT piloté par l'UTC de Compiègne et en collaboration avec l'université d'Amiens et l'ESCOM. Ce projet vise la prédiction des propriétés amphiphiles de ces tensioactifs. En effet, l'accès à ces propriétés à partir de leur structure moléculaire permet d'évaluer a priori les performances potentielles de nouveaux tensioactifs biosourcés dans des formulations industrielles avant même leur synthèse. Dans le cadre des travaux de doctorat de Théophile Gaudin (collaboration UTC-Ineris), la méthode prédictive Quantitative Structure Property Relationship (QSPR), qui cherche à relier de manière quantitative une propriété expérimentale à la structure moléculaire d'une substance, a été utilisée. Si différents modèles QSPR existaient déjà pour prédire certaines propriétés des tensioactifs pétro-sourcés, aucun modèle validé n'avait été identifié pour les tensioactifs dérivés de sucres. L'objectif de ces travaux était de développer de tels modèles, en s'appuyant sur l'expertise de l'Ineris quant à leur développement et leur validation pour les propriétés physico-chimiques dangereuses des substances chimiques.
Fichier principal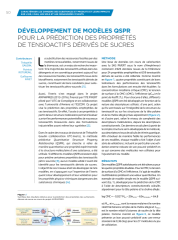 2017-433.pdf (122.27 Ko)
Télécharger le fichier
Origin : Publication funded by an institution