Torréfaction et pyrolyse de peupliers utilisés en phytotechnologies : effet de la température et du contenu en chlore de la biomasse sur la distribution des métaux dans les émissions et options de valorisation
Torrefaction (290°C) and pyrolysis (450 and 800°C) trials were performed at pilot scale on metal-enriched poplars from a phytomanaged soil and poplars from uncontaminated soil. The evolution of the end-product yield, i.e. biochar, bio-oil and gas fractions, depended on temperature rather than other parameters such as the origin or metal content of the tested poplars. Torrefaction decreased the processed poplars weight, leading to metal-enriched torrefied biomass as a major endproduct. At 450 and 800°C, metal behavior was governed by temperature. At 450°C, metals were recovered in biochar, then in bio-oil and finally in gases. At 800°C, similar results were obtained for Cu, confirming that Cu was not easily volatilized. On the contrary, Zn, Pb and Cd were mostly recovered in gases, which became the second metal recovery compartment. Zn and Pb were assumed to form volatile metal chlorides, therefore increased metal volatilization from Control poplar biomass could be explained by increased chlorine content of such biomass. According to metal concentrations, valorization options were discussed for end-products.
La directive 2009/28/CE modifiée relative à la promotion de l'utilisation de l'énergie produite à partir de sources renouvelables crée un cadre commun pour l'utilisation des énergies renouvelables afin de réduire les émissions de gaz à effet de serre et de promouvoir des transports plus propres. À cette fin, la directive encourage la restauration des sols qui ont été sévèrement dégradés ou fortement pollués pour la production de biofuels et de bioliquides. Dans ce contexte, les phytotechnologies peuvent contribuer aux objectifs de la directive. En plus de contribuer à restaurer la qualité et les fonctions du sol, les phytotechnologies peuvent produire de la biomasse renouvelable (herbacée ou ligneuse) utilisable dans différentes voies de valorisation énergétique ou de la matière. En fonction de la phytotechnologie utilisée sur un site pollué, dépendant du comportement de(s) la plante(s) vis-à-vis des polluants, des paramètres physicochimiques et des caractéristiques agronomiques des sols, la biomasse récoltée peut contenir des éléments métalliques (ETM) dont les concentrations peuvent être supérieures à celles habituellement mesurées dans une végétation similaire poussant sur des sols non pollués. Cette biomasse végétale peut intégrer, dans les conditions fixées par la réglementation, les filières de valorisation existantes à condition qu'elle ne perturbe pas le fonctionnement et la performance des procédés et que les émissions d'ETM soient maîtrisées afin de prévenir les transferts dans l'environnement. Depuis quelques années, des tests en laboratoire et en pilotes industriels sont conduits pour définir les paramètres d'entrée de telles biomasses dans les filières existantes et les éventuelles limites ou contraintes. La torréfaction et la pyrolyse sont deux procédés thermochimiques en émergence. Ces procédés ont récemment été mis en oeuvre dans le cadre du projet ANR « BIOFILTREE » sur des biomasses ligneuses (peupliers) résultant des phytotechnologies à l'échelle de pilotes industriels.
Fichier principal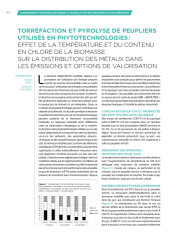 2017-429.pdf (162.87 Ko)
Télécharger le fichier
Origin : Publication funded by an institution