Dissolution du gypse : analyse et modélisations
In this research, we are interested in the issue of dissolution of soluble rocks, and their geomechanical consequences like continuous and discontinuous subsidence and sinkholes. This research focuses on gypsum rocks, although the developed method is also adapted to salt rocks. A large-scale Diffuse Interface Model (DIM) is used to describe the evolution of a gypsum cavity induced by dissolution. The method is based upon the assumption of a pseudo-component dissolving with a thermodynamic equilibrium boundary condition. A methodology is proposed based on numerical computations with fixed boundaries to choose suitable parameters for the DIM model and hence predict the correct dissolution fluxes and surface recession velocity. Additional simulations were performed to check which type of momentum balance equation should be used. The potential of the methodology is illustrated on two large-scale configurations: one corresponding to a gypsum lens within a porous rock layer and the other to a pillar in a flooded gypsum mine. A final case is a comparison between salt and gypsum dissolution rate.
Le gypse est une ressource minérale importante en France et en particulier en Ile-de-France où les masses de gypse que renferme son soussol sont exploitées en carrières, à ciel ouvert et en souterrain. Matière première du plâtre, le gypse est une roche évaporitique soluble. Ainsi, dans un contexte naturel ou dans celui d'exploitations anthropiques, cette spécificité occasionne, au contact de l'eau, la dissolution de la roche et peut créer, en fonction des configurations, des vides souterrains de dimensions plus ou moins importantes. Des recherches ont été entreprises par l'Ineris afin d'améliorer la connaissance de ces mécanismes de dissolution et de développer des outils de modélisation permettant de quantifier l'évolution spatio-temporelle de systèmes de dissolution dans des environnements variés. Les enjeux qui sous-tendent ces recherches résident dans une meilleure prédiction des mouvements de terrain (et leurs impacts) induits par la dissolution de telles évaporites. Dans le cadre de l'analyse des risques liés à la présence de cavités souterraines, il est nécessaire de connaître ou, au minimum, d'estimer la présence de cavités, leur localisation et leurs formes géométriques.
Fichier principal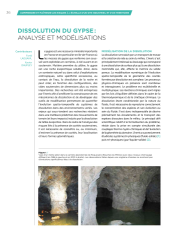 2017-428.pdf (106.06 Ko)
Télécharger le fichier
Origin : Publication funded by an institution