Apport de la surveillance microsismique pour la compréhension des mécanismes d'effondrement dans les mines de sel exploitées par dissolution
Surface collapses are a common phenomenon in salt solution mining operations and represent often the main source of risk to manage to ensure the safety of miners working on site. As part of a surface collapse experiment carried out at a salt solution mine at Cerville-Buissoncourt (Lorraine, France), Ineris aimed to develop and optimize collapsing hazard assessment based on microseimic monitoring. A series of innovative seismic signal processing approaches have been developed, particularly in terms of source location and mechanism analysis. The results indicate that the surface collapsing mechanism was controlled by the reactivation of pre-existing structures, oriented mainly NE-SW and NW-SE. The identification of this preferential orientation of fracturing represent an important element to adapt and plan upcoming exploitation on site and to better anticipate the nature of potential collapses of underground cavities.
Du fait de sa nature souvent brutale, l'effondrement de terrain provoqué par l'instabilité de cavités souterraines représente un aléa important rencontré dans de nombreuses exploitations minières. Lors des opérations d'extraction de sel par dissolution, ces effondrements peuvent généralement être anticipés à partir de l'inspection des paramètres de production enregistrés aux puits d'injection et d'extraction (par exemple, le niveau de nappe, sa température et sa salinité). De plus, des mesures in situ, comme le sonar, le GPS ou les campagnes de nivellement, sont souvent réalisées pour caractériser l'évolution de la cavité souterraine. Les recherches actuelles se concentrent sur la compréhension du processus de dissolution à différentes échelles, comprenant les interactions entre la convection naturelle ou forcée en lien avec l'évolution de la cavité dans le temps et dans l'espace.
Fichier principal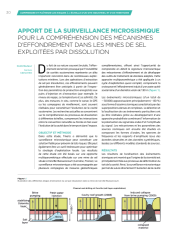 2017-425.pdf (189.69 Ko)
Télécharger le fichier
Origin : Publication funded by an institution