Risques NaTech : vulnérabilité et résilience des installations industrielles sous l'effet d'un tsunami
Natural hazards have triggered major industrial accidents in the past, even if these NaTech accidents - a contraction of the words "natural" and "technological" - were not so numerous. Earthquake and Tsunami event in Japan in March 2011 is one of the most striking examples during the last decade. Several industrial plants have suffered irreversible damages and have generated important socioeconomic consequences. Internatech Project conducted by Ineris in collaboration with AIST, MSME Laboratory Marne-la-Vallée University and Phimeca company aimed to develop a resilience evaluation method of industrial structure subjected to tsunami and earthquake. Simplified models have been developed to describe the wave height profile in case of tsunamis. The mechanical vulnerability of cylindrical metal tanks has been investigated, taking into account multimodal failures (overturning, rupture of anchorages and sliding, buoyancy or buckling). Fragility curves have then been developed and could be implemented in resilience analyses. A similar framework was also developed for earthquake events and could be adapted in the future to other kinds of flooding events. The results contributed to the work carried out by Ineris in international group and the application of French regulations.
Un accident NaTech (contraction de « naturel » et « technologique ») est un accident technologique majeur engendré par un évènement naturel et dont les conséquences sont susceptibles de porter atteinte à des tiers ou à l'environnement. Les accidents de type NaTech ne représentent qu'une faible part de l'ensemble des accidents industriels connus en Europe (5 %) et en France (7 %). Toutefois, les interactions entre aléas naturels et installations industrielles font aujourd'hui l'objet d'une attention soutenue compte tenu notamment des conséquences du changement climatique, qui a pour effet reconnu une fréquence accrue des phénomènes naturels extrêmes.
Fichier principal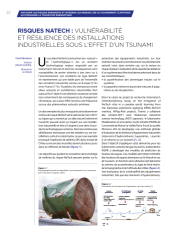 2017-422.pdf (153.11 Ko)
Télécharger le fichier
Origin : Publication funded by an institution