Effet des radiofréquences sur des modèles de vulnérabilité cérébrale : développement et neuro-inflammation
The widespread exposure of radiofrequency electromagnetic fields (RF-EMF) devices raises questions on their possible health consequences on the immature brain. Neuro-development is a period of sensitivity to environmental challenges such as inflammatory insults. Here, we assessed whether sensorymotor gating, emotionality, and novelty seeking were affected by RF-EMF exposures in fetus or adolescent rats, and tested whether maternal immune activation or adolescent neuroinflammation would increase RF-EMF toxicity. Rats were daily exposed to RF-EMF with loop antennas adjoining the abdomen of pregnant females (fetus body specific absorption rates (SAR): 0, 0.7 or 2.6 W/kg) or the head of adolescents (brain SAR: 0, 1.5 or 6 W/kg). Our result indicated that novelty seeking at adolescence was reduced after gestational exposure at 2.6 W/kg. Maternal immune activation induced a SAR-dependent reduction of sensory-motor gating in adults and adolescent neuroinflammation elicited a SAR-dependent reduction of emotionality. These data support the fact that special attention is needed for protection of developing organisms from combined environmental exposures with RF-EMF.
Les applications utilisant les champs électromagnétiques (CEM) se sont considérablement développées depuis plusieurs années. Quotidiennement, ces applications peuvent notamment fonctionner dans l'environnement rapproché des femmes enceintes ou être intensivement utilisées au niveau de la tête dès l'adolescence. Les organismes immatures sont susceptibles d'être fragilisés par des expositions combinées (à des agents infectieux par exemple), pertinentes d'un point de vue environnemental. Dans ce contexte, l'Ineris a réalisé des expériences visant à étudier si des CEM appliqués en prénatal ou à l'adolescence modifieraient à long terme l'homéostasie des cellules gliales et les capacités sensori-motrices, émotionnelles, et de recherche de nouveauté. De plus, l'hypothèse selon laquelle un état inflammatoire pourrait rendre ces organismes plus vulnérables en réponse aux CEM a été testée.
Fichier principal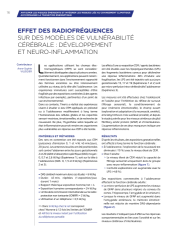 2017-419.pdf (108.23 Ko)
Télécharger le fichier
Origin : Publication funded by an institution