Spatialisation des inégalités environnementales dans une démarche de caractérisation de l'exposome
Analyzing the relationship between the environment and health has become a major focus of public health efforts in France, as evidenced by the national action plans for health and the environment. These plans have identified the following two priorities : - identify and manage geographic areas where hotspot exposures are a potential risk to human health ; and - reduce exposure inequalities. The aim of this study is to build spatial exposure indicators using a spatial stochastic multimedia exposure model for detecting vulnerable populations and analyzing exposure determinants at a fine resolution and national scale. A multimedia exposure model was developed by INERIS to assess the transfer of substances from the environment to humans through inhalation and ingestion pathways. The PLAINE platform adds a spatial dimension by linking GIS (Geographic Information System) to the model. Tools are developed using modeling, spatial analysis and geostatistical methods to build and discretize interesting variables and indicators from different supports and resolutions on a 9-km2 regular grid. We applied this model to the risk assessment of exposure to PAH (Polycyclic Aromatic Hydrocarbons) using national databases. The results will permit to estimate ingestion exposure pathway contributions based on exposure scenarios defined for two different referent groups (age, dietary properties, and the fraction of food produced locally).
Le PNSE3 a introduit la notion d'« exposome » qui représente l'ensemble des expositions couvrant la vie entière (incluant la période prénatale) qui peuvent influencer la santé humaine, à savoir les expositions chimiques, physiques et biologiques, le contexte psycho-social et les régulations biologiques internes. L'« exposome territorialisé » correspond à l'application du concept d'exposome à la caractérisation des inégalités environnementales, ce qui implique de développer des approches dynamiques et multidimensionnelles à l'aide de systèmes d'information et requiert l'adoption de méthodes transdisciplinaires pour l'analyse des données. La recherche s'est orientée ici vers l'identification de zones de surexposition liées à trois hydrocarbures aromatiques polycycliques (HAP : Benzo[a]pyrene, BaP ; Benzo[ghi]perylene, BghiP ; Indéno[cd]pyrene, InD) sur le territoire français en retenant en première approche la voie par ingestion. Cette démarche nécessite la description de données d'entrées représentatives de la population et de la contamination des milieux sur les territoires étudiés.
Fichier principal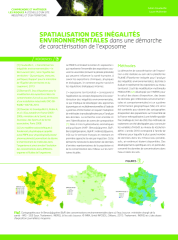 2016-482.pdf (124.65 Ko)
Télécharger le fichier
Origin : Publication funded by an institution