Évaluation des dommages liés aux mouvements de terrain sur les structures en maçonnerie
This research concerns the development of tools and methods to improve the quantification of the damage induced by ground movements on masonry residential structures. It is based on the use of a simulator for ground movement under natural gravity (1g), developed by the research team. The works include the development of an image analysis method to characterize large deformation, cracks, location, length and aperture. An algorithm calculates a level of damage calibrated with classifications based on visual assessments. The methodology has been applied to several scenarios in order to ensure its efficacy and reproducibility at low scale.
Chaque année, les risques de mouvements de terrain associés aux phénomènes de retrait-gonflement des argiles, aux affaissements et effondrements de cavités souterraines d'origine anthropique ou de dissolution naturelle, et aux glissements de pente, frappent de nombreux territoires et gestionnaires d'infrastructures, endommageant des réseaux de transports ou de communications, des ouvrages d'art ou collectifs (bâtiments) ainsi que de nombreuses habitations individuelles. Source d'un préjudice considérable, ces risques constituent, après les inondations, le second poste d'indemnisation au titre des catastrophes naturelles. Dans la catégorie des maisons individuelles, les structures en maçonnerie représentent une proportion importante des ouvrages impactés car leur composition les rend particulièrement vulnérables aux mouvements de terrain.
Fichier principal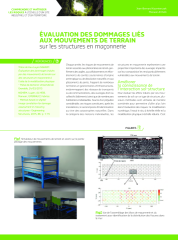 2016-477.pdf (201.68 Ko)
Télécharger le fichier
Origin : Publication funded by an institution