L'ingénierie FOH : un cadre de référence pour les acteurs de la sécurité
There exists today a diversity of practices in the domain of what is called 'human and organisational factors'. Historically developed in high-risk industries such as the nuclear or civil aviation, the chemical and petrochemical industries as well as other systems (e.g., dams, tunnels) have been involved in such development in the past 10 to 20 years. But one problem is to situate the diversity of disciplines, methods and perspectives in this field, as much for large companies than for smaller ones. For this reason, INERIS has carried out several studies in order to help companies stand back and design 'human and organisational' strategies. Following these studies, INERIS published a guide for this specific purpose. The guide contains methodological principles, theoretical insights and practical examples for companies to design a program then introduce 'human and organisational factors' in their activities.
Depuis quelques années, il existe de nombreuses et diverses expériences au sein des industries à risque comme l'aéronautique, le nucléaire ou les Installations classées pour la protection de l'environnement (ICPE) dans le domaine dit des Facteurs organisationnels et humains (FOH). Il existe pour ces différentes filières un historique singulier et varié en ce qui concerne l'introduction de démarches d'ingénierie FOH, c'est-à-dire de démarches mettant en oeuvre des connaissances issues des sciences humaines et sociales (SHS) appliquées à la sécurité industrielle et professionnelles. Dans ces grandes filières, les experts FOH se sont à certaines occasions exprimés pour offrir un point de vue mettant plus particulièrement en avant les méthodes mises en oeuvre, les programmes de recherche développés ou encore la mise en place d'un réseau d'animateurs ou de consultants FOH.
Fichier principal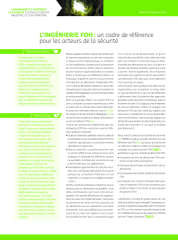 2016-472.pdf (119.27 Ko)
Télécharger le fichier
Origin : Publication funded by an institution