Une nouvelle approche de détermination de la composition stoechiométrique de nanopoudres
Nanopowders are very often used as basic building blocks to elaborate nanostructured materials displaying enhanced functionalities. With the advent of nanoparticle production, the need for an appropriate metrology allowing real-time and in-situ monitoring has risen. The LIBS (Laser- Induced Breakdown Spectroscopy) technique is deemed as a potential candidate for on-site control of the stoichiometry of composite nanopowders.
Les nanotechnologies sont considérées comme l'industrie du XXIe siècle. Très souvent, le développement de nanomatériaux implique en premier lieu la synthèse de nanoparticules. Celles-ci servent de briques élémentaires à la fabrication de matériaux aux propriétés avancées optiques, mécaniques, électriques, thermiques ou autre. L'avènement des nano-objets, de leurs agrégats et de leurs agglomérats nécessite une métrologie adaptée. Les procédés de fabrication requièrent le développement de nouveaux instruments permettant une analyse en ligne, en temps réel des caractéristiques des nanopoudres produites. La composition stoechiométrique des poudres est un exemple de paramètre qu'il peut être avantageux de suivre en temps réel sur la ligne de production afin d'obtenir un produit avec la composition chimique attendue.
Fichier principal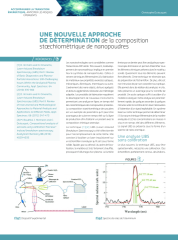 2016-471.pdf (133.45 Ko)
Télécharger le fichier
Origin : Publication funded by an institution