Évaluer l'explosivité des nanomatériaux : une démarche essentielle pour la maîtrise des risques
Accidental events such as the spontaneous release of nanoparticles, ignition and explosion of a nano-dispersed dust cloud, have potential consequences that can only be predicted through a better understanding of the fundamental safety parameters : agglomeration behavior, flammability and explosivity. It is therefore needed to generate new data in order to better characterize these safety parameters and be able to predict accidental consequences related to the production and use of nanomaterials. In this context, research work performed within WP14 - Accidental Risks - in the European FP7 project MARINA enabled to better understand fundamental mechanisms and accidental risks related to the production and use of nanomaterials.
Les événements accidentels redoutés, tels que la libération spontanée de nanoparticules, l'inflammation/explosion d'un nuage nanodispersé ont des conséquences potentielles qui ne peuvent être prévues que par une meilleure connaissance des paramètres fondamentaux de sécurité : agglomération, inflammabilité, explosivité. L'acquisition de ces nouvelles connaissances est une nécessité à la fois pour mieux caractériser les nanomatériaux et pour être capable de prédire les conséquences de scénarios accidentels. L'évaluation de l'explosivité de nanomatériaux pulvérulents constitue une base pour l'évaluation des risques et le dimensionnement des barrières de sécurité actives ou passives.
Fichier principal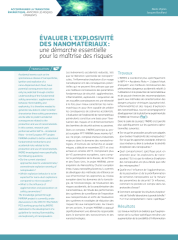 2016-469.pdf (177.63 Ko)
Télécharger le fichier
Origin : Publication funded by an institution