Les tests in vitro à l'interface air-liquide permettent-ils de mieux prédire la toxicité pulmonaire des nanoparticules ?
Nanoparticles (NPs) are potentially toxic for humans, especially after inhalation. The animal model is a relevant tool to predict potential adverse effects in human, because of a similar level of complexity exiting between the two models. Nevertheless, considering the high number of NPs used and their physicochemical diversity, it seems difficult to rely only on animal experimentation. In this context, it is necessary to find reliable models which can be used as alternative to the in vivo. The aim of this study was to assess the ability of several in vitro methods, including more realistic methods allowing exposure of lung cells at the air-liquid interface to aerosols of NPs, to predict the pulmonary adverse effects observed in vivo. For this purpose, in vitro and in vivo experiments were performed. It was observed that using more realistic in vitro methods can predict more closely the biological responses observed in vivo after acute exposure to NPs. This shows the relevance of developing and using more realistic in vitro methods and suggests perspectives regarding the implementation of standardized methodologies which could be used for in vitro based regulation.
L'utilisation croissante de nanoparticules (NPs) dans les produits manufacturés entraîne une augmentation potentielle de l'exposition. L'homme peut être exposé par voie respiratoire, d'autant plus que les NPs se remettent facilement en suspension dans l'air du fait de leur petite taille. Cela suscite des interrogations quant à un potentiel impact sanitaire, pour les travailleurs comme pour le grand public. Les potentiels dangers des NPs pour l'homme après inhalation peuvent être évalués par des études de toxicologie chez l'animal. C'est le modèle actuellement le plus fiable pour prédire de potentiels effets indésirables chez l'homme, du fait d'un niveau de complexité similaire par rapport à l'humain. Néanmoins, considérant le nombre important de NPs existantes et du fait d'une grande diversité physico-chimique entre celles-ci, il paraît nécessaire de trouver des modèles fiables qui pourraient être utilisés comme alternative au modèle animal.
Fichier principal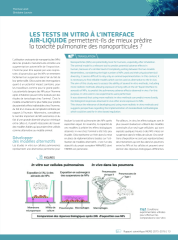 2016-466.pdf (152.1 Ko)
Télécharger le fichier
Origin : Publication funded by an institution