Développement d'approches d'évaluation des dangers (éco)toxicologiques de substances émergentes issues de la chimie verte : les liquides ioniques.
To reduce health and environmental risks of chemicals and to minimize the environmental footprint of human activities, green chemistry searches for alternative, environment-friendly reaction media and at the same time strives to increase reaction rates and milder reaction conditions. A growing area of research is devoted to ionic liquids often termed as "designer" solvents due to the extreme tunability of sought functional properties. However, these aspects have inadequately led many stakeholders to qualify ILs as 'green solvents'. This qualification was stated without sufficient caution about versatility of ionic liquid chemical structures which could induce significant variation in risk profiles. Thus, the Institute proposed a potential industrial accompaniment to reduce ionic liquid harmfulness by a novel combination of OECD Daphnia magna standardized test and fish immunomarkers. The combination of these two tests allowed multicriteria examination of ILs impacts in different organisms and trophic levels. The work provided new data for legislation and opened a door towards an integrative environmental evaluation due to direct implications of immune system in fish and ecosystem health.
Afin de réduire au maximum les risques induits par les produits chimiques pour la santé humaine et environnementale, la chimie verte serait une approche alternative performante et plus respectueuse de l'environnement. Depuis quelques années, les liquides ioniques, également appelés « solvants verts », constituent un domaine de recherche en plein essor lié à la malléabilité de leurs propriétés fonctionnelles. De plus, les liquides ioniques sont considérés comme faiblement volatiles (pas de diffusion dans l'atmosphère, risque d'exposition faible), non inflammables (réduction des risques d'accidents) et stables tout en offrant d'intéressantes opportunités comme milieu réactionnel pour une chimie plus propre. De récents travaux publiés dans la littérature scientifique se sont focalisés sur l'étude des risques pour les écosystèmes aquatiques. C'est dans ce contexte que s'inscrivent les travaux menés par l'INERIS.
Fichier principal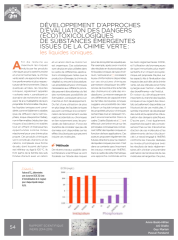 2015-410.pdf (144.71 Ko)
Télécharger le fichier
Origin : Publication funded by an institution