Retour d'expérience sur l'effondrement de Clamart du 1er juin 1961 : synthèse et analyse technique
In chalk mines, the method of room and pillar mining has been widely used in France. This method results in substantial geohazards and therefore poses a serious public safety issue today. So, many large collapses have occurred during or after their exploitation, as the collapse of Clamart (south of Paris) being well known as one of the most catastrophic. Today, 50 years after the collapse, the main causes of the event are still not well understood. This back-analysis presents the case study, using both an empirical approach and a numerical approach. Based on a set of hypotheses, an empirical approach and 3D numerical modeling have indicated a plausible scenario that may explain the collapse: The large collapse may have been caused by a lack of bearing capacity of the pillars and the sudden rupture of a hard limestone bed on which the load would have accumulated until overload occurred. The bed weakness between the two mine levels may also have had an influence on the mine's general lack of stability. Moreover, under the given hypothesis, the study shows a very low influence of the water table due to flooding of the mine.
Le 1er juin 1961, une carrière de craie s'effondrait sur les territoires des communes de Clamart et d'Issy-les-Moulineaux, au sud de Paris. Cet effondrement entraîna la destruction d'un quartier sur 3 hectares et fit 21 morts et plus de 50 blessés. Bien qu'assez largement étudiées, les causes de l'effondrement de cette carrière, exploitée par la méthode des chambres et piliers abandonnés, n'ont jamais été établies avec certitude. L'INERIS a mené une analyse en retour d'expérience à partir des sources documentaires existantes relatives à la configuration du site et au déroulement de l'effondrement. Elles proviennent essentiellement de la base cartographique établie par l'Inspection générale des carrières de Paris avant l'effondrement et des investigations, rapports d'expertise et articles post-accidentels.
Fichier principal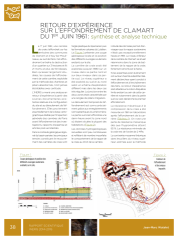 2015-401.pdf (148.58 Ko)
Télécharger le fichier
Origin : Publication funded by an institution