Aide au choix de substances prioritaires en santé environnementale
Identifying and ranking substances of concern is a complex task: the notion of substance of concern has a different meaning depending on regulations, public policies, existing ranking exercises or individual opinions. The choice of priority substances is generally supported by orders of substances constructed on an expert opinion. The process suggests providing, in addition, orders of substances elaborated on the basis of views identified among other people involved in the decision process: groups of decision makers, stakeholders, people from civil society, etc. This process advises using participatory multi-criteria methods. These methods give structure to the participatory approach, they make explicit the underlying logic of each generated order and they can be adapted to the available data. The process can adapt to any type of context and ranking objective. An application conducted in 2012, to support the choice of the priority substances of the future French Environmental Health National Action Plan (PNSE3), illustrate the process.
Une des priorités du deuxième Plan National Santé-Environnement (PNSE2) est de définir une méthode d'identification et de hiérarchisation des substances toxiques les plus préoccupantes. La notion même de substance préoccupante revêt un sens différent selon les réglementations, les politiques publiques, les exercices de hiérarchisation existants ou les opinions individuelles. Différents critères peuvent être mis en avant, par exemple : le danger, le caractère Persistant Bioaccumulable et Toxique (PBT), la protection de populations sensibles et le risque individuel inacceptable. En termes d'actions publiques, le choix de substances prioritaires s'appuie généralement sur des ordres de substances construits sur la base d'un avis d'experts. Le processus décrit ici propose de fournir, en complément, des ordres de substances basés sur des points de vue identifiés parmi d'autres acteurs de la décision : groupe de décideurs, représentants d'intérêts divers, personnes issues de la société, etc.
Fichier principal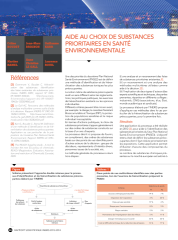 2014-478.pdf (148.29 Ko)
Télécharger le fichier
Origin : Publication funded by an institution