Dispositifs et stratégies de monitoring pour la surveillance de sites de stockage géologique
Involved in several research projects funded by the European Union on carbon capture and storage, INERIS has been involved in the design, development, testing and field-deployment of gas monitoring devices in soil and sub-surface on industrial sites. The Institute has developed strong experience using self-designed devices dedicated to the characterization of future CO2 storage sites and analogues of natural or anthropogenic CO2-leaking systems (e.g. former mining areas). A special interest is given to the monitoring of gas flux at surface and gas migration in the subsurface. Gas monitoring in wells and surface gas measurements are used for storage sites before, during and after injection starts, in order to characterize leaking processes that may impact urban areas. After many years of worldwide research conducted by many researchers and corporations, it is now time to adopt a "monitoring-ready" approach. It has to be available to challenge industrial and stakeholders' expectations for efficient, field-deployable and cheap solutions in performing efficient gas monitoring in the soil and the sub-surface.
La géochimie des gaz et de l'eau joue un rôle majeur dans la surveillance des sites de stockage géologique (par exemple vis-à-vis du CO2 ou du CH4). La surveillance (ou monitoring) géochimique a plusieurs objectifs : (i) l'établissement de l'état environnemental initial en surface et subsurface des sites avant que l'injection ne débute dans le sous-sol (ou état zéro) ; (ii) la détection des fuites qui se manifesteraient par une modification de l'état zéro ; (iii) la démonstration de la faisabilité d'un stockage sûr. L'INERIS travaille depuis de nombreuses années au développement de dispositifs et de stratégies de monitoring pour établir l'état zéro et réaliser la surveillance des sites aussi bien lors d'opérations d'injection, qu'après l'arrêt de l'exploitation. L'Institut travaille également à la caractérisation de fuites de gaz et à la compréhension de la dynamique de migration de gaz dans le sous-sol.
Fichier principal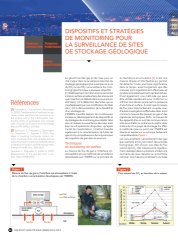 2014-472.pdf (157.38 Ko)
Télécharger le fichier
Origin : Publication funded by an institution