Le modèle embryonnaire de poisson zèbre transgénique cyp19a1b-GFP
Agonist ligands of estrogen receptors have been extensively studied in recent years because of their effects on reproduction and development of aquatic organisms such as fish. While there is a need to develop fish-specific mechanism-based bioassays to screen estrogenic potency of chemicals alone, it is also important to consider that organisms are often exposed to mixtures of endocrine disruptors (EDs) that are able to produce significant effects, even when each chemical is present at low doses that individually do not induce observable effects. We recently developed an in vivo mechanism-based assay called EASZY that uses transgenic zebrafish cyp19a1b-GFP embryos expressing GFP under the control of the cyp19a1b promoter. EASZY is a rapid and cost-effective assay allowing to screen estrogenic activity of chemicals and was further used to explore combined effect of ED. The tested mixtures of estrogenic compounds acted predominantly in an additive manner on the expression of GFP demonstrating that combined effects of estrogenic compounds can be predicted by using dose addition, although in some cases deviations were observed. The effects of combinations of EDs from different categories were also explored by testing a binary mixture of estradiol and testosterone. Overall, we show that the use of cyp19a1b-GFP zebrafish embryo assay combined with predictive modelling is relevant to further explore the effect of complex mixture of EDs.
Les perturbateurs endocriniens et en particulier les agonistes des récepteurs des oestrogènes (ou oestrogènes mimétiques) ont été largement étudiés au cours de ces dernières années en raison de leurs effets sur la reproduction et le développement des organismes aquatiques tels que les poissons. Face aux préoccupations que posent ces composés pour les espèces et les milieux aquatiques, il est important de disposer d'outils aptes à caractériser les effets des substances seules vis-à-vis du système endocrinien des poissons dans une démarche d'évaluation du risque a priori, c'est-à-dire avant que les substances ne contaminent les milieux. Il convient aussi de considérer que, dans l'environnement, les poissons sont le plus souvent exposés simultanément à des mélanges de différents produits chimiques pouvant agir comme des oestrogènes mimétiques. Présents généralement à des concentrations faibles, ils peuvent néanmoins induire des réponses biologiques et ce, même si chacune des substances du mélange est présente à une concentration inférieure à celle conduisant à un effet. Ce constat a stimulé ces dernières années de nombreux travaux visant à évaluer les effets combinés de substances en mélange pour s'assurer in fine que les risques associés aux mélanges de composés chimiques puissent être correctement pris en compte. Cependant, les études sur la toxicité combinée des substances requièrent des plans d'expériences complexes et sont demandeuses en ressources expérimentales ce qui explique probablement qu'elles se soient majoritairement basées jusqu'à présent sur l'utilisation de modèles in vitro.
Fichier principal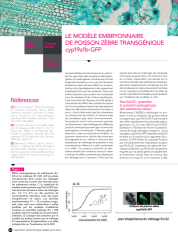 2014-469.pdf (188.57 Ko)
Télécharger le fichier
Origin : Publication funded by an institution