Coopération cellulaire et rôle du récepteur P2X7 dans l'inflammation pulmonaire induite par les nanoparticules
Macrophages and alveolar epithelial cells are the first targets of inhaled nanoparticles (NPs) reaching the alveoli. Mono- or co-cultures of lung epithelial (A549 or NCI-H441) and macrophage (THP-1) cell lines were used to study the cell cooperation and the involvement of the P2X7 cell death receptor during the inflammation caused by SiO2 and TiO2 NPs. Here we show that secretion of pro-inflammatory cytokines (IL-1β, IL-6 and IL-8) in response to NP exposure was higher in co-cultures than in monocultures. A functional P2X7 receptor was found in all the cell lines studied. Its involvement in IL-1β secretion in co-cultures was demonstrated using a specific antagonist, the brilliant blue G. Furthermore, mono and co-cultures exhibited distinct secretion patterns of pro-inflammatory cytokines in response to NP exposure and we provide the first evidence that the P2X7 receptor is involved in the inflammation triggered by SiO2 and TiO2 NPs, by increasing IL-1β secretion, and likely via the inflammasome pathway. Altogether, our data indicate that cell co-cultures used in this study represent valid models to study the inflammatory mechanisms of NPs within the alveoli.
Le développement très important des nanotechnologies, et donc la production à un niveau industriel de matériaux manufacturés à l'échelle nanométrique, impliquent des probabilités d'exposition de plus en plus élevées, avant tout chez les travailleurs concernés, mais également pour le grand public. De par leur petite taille (< 100 nm), le premier risque d'exposition aux nanoparticules (NPs) est lié à la pénétration par voie pulmonaire (inhalation) mais les données toxicologiques sur les NPs sont encore incomplètes à ce jour. Les études menées in vitro sont, pour des considérations éthiques et économiques, une alternative indispensable à l'approche in vivo. Bien que les modèles de toxicité in vitro, isolés de leur microenvironnement in vivo, ne puissent pas remplacer complètement les études in vivo, ils permettent, par leur simplicité, d'appréhender plus facilement les mécanismes d'action des toxiques. L'avantage des méthodes in vitro pour l'évaluation de la dangerosité des nanomatériaux est donc de fournir des outils de dépistage de toxicité plus simples, plus rapides et moins coûteux que l'approche in vivo.
Fichier principal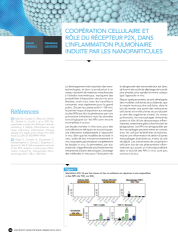 2014-462.pdf (155.79 Ko)
Télécharger le fichier
Origin : Publication funded by an institution