Stabilité des carrières souterraines abandonnées en relation avec les fluctuations du niveau d'ennoyage
In order to prevent mine collapses, INERIS studies the mechanisms that initiate rock failure under the influence of water level. Three complementary ways were developed: 1) identification of the behavior of water sensitive rocks, 2) feedback from previous mine collapses and 3) instrumentation of pillars within partially flooded mines. The feedback from the abandoned ChâteauLandon chalk mine collapse (7 deaths in 1910) illustrates the key influence of the sudden water table rise: laboratory tests confirmed chalk mechanical properties are altered in the presence of water (Didier, 2010). The Clamart collapse (30 deaths in 1961) affected another abandoned chalk mine where stability conditions were close to failure during extracation. Although the water role appears less clear in this context, the deepest level was flooded at the time of the collapse and heavy rain have been noticed a few days before the disaster. Concerning in situ experimental monitoring, geomechanical pillar parameters, rock water contents and groundwater table are performed. At Estreux site, the chalk mine is partially flooded every 5-10 years: the convergency and extension speed of the pillar varies with the water table. At Saint-Martin-le-Nœud site, a pillar located in an underground permanent lake shows a gradient of rock water content that fluctuates according to the lake level.
Le sous-sol français renferme plus de 500000 cavités naturelles et anthropiques, dont plusieurs dizaines de milliers de carrières souterraines, certaines ayant été réalisées dans la craie. Ces cavités ont généralement été creusées à sec, au-dessus du niveau des nappes phréatiques pour s'affranchir du coût d'un pompage. Des effondrements historiques (Château-Landon 1907, Clamart 1961) ont été associés à l'effet de l'eau. Dans un contexte où le battement des nappes peut se traduire par l'ennoyage ou le dénoyage de vides souterrains, la question de la stabilité de ces cavités se pose. Ce travail est réalisé dans le cadre du programme d'appui technique intitulé «Risques liés à la présence de cavités souterraines et versants rocheux instables » qui constitue l'un des objectifs de la Direction générale de la prévention des risques du ministère de l'Écologie, du Développement durable et de l'Énergie.
Fichier principal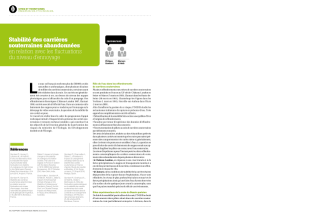 2013-509.pdf (211.9 Ko)
Télécharger le fichier
Origin : Publication funded by an institution