Pollution atmosphérique et climat : construction d'une nouvelle chaîne de modélisation
Climate change and air quality are closely related: through the policy measures implemented to mitigate these major environmental threats but also through the geophysical processes that drive them. We designed, developed and implemented a comprehensive regional air quality and climate modelling system to investigate future air quality in Europe taking into account the combined pressure of future climate change and long range transport. Using the prospective scenarios of the last generation of pathways for both climate change (emissions of well mixed greenhouse gases) and air pollutants, we can provide a quantitative view into the possible future air quality in Europe. We find that ozone pollution will decrease substantially under the most stringent scenario but the efforts of the air quality legislation will be adversely compensated by the penalty of global warming and long range transport for the business as usual scenario. For particulate matter, the projected reduction of emissions efficiently reduces exposure levels.
Même si leurs impacts respectifs se caractérisent généralement par des échelles de temps et d'espaces différentes, qualité de l'air et climat restent intimement liés, autant par les processus géophysiques qui les régissent (phénomènes météorologiques et composition chimique de l'atmosphère) que par les stratégies de gestion et d'atténuation qui les concernent (stratégies d'économie d'énergie ou transition vers de nouvelles sources d'énergie). Ces interactions multiples appellent des approches intégrées afin de s'assurer que les mesures de réduction d'émissions de polluants conçues aujourd'hui demeurent efficaces à l'avenir, dans un contexte climatique différent. De telles approches intégrées doivent aussi permettre d'identifier les mesures de gestion les plus coût-efficaces et qui auraient des effets positifs tant sur la qualité de l'air que sur le réchauffement climatique.
Fichier principal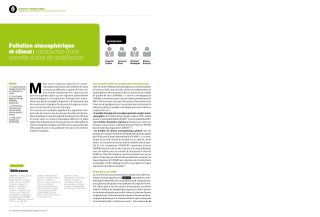 2013-505.pdf (315.46 Ko)
Télécharger le fichier
Origin : Publication funded by an institution