Impact du prélèvement sur la qualité des données de la surveillance
A collaborative sampling trial was performed by AQUAREF (French national reference laboratory for water and the aquatic environment) at Paladru Lake, Isere, France. This trial was the first national test aiming at improving knowledge of the effect, in lake water, of sampling on global variability. Ten sampling teams regularly involved in Water Framework Directive monitoring of lake water were asked to participate, in agreement with the Regional Water Agencies. All the samples were collected and analyzed by INERIS in order to minimize the analytical impact on global variability. Overall results for a few metals (cobalt and nickel) showed predominance (>90%) of sampling uncertainty compared to analytical variability. For other metals (zinc, lead and aluminium), the initial blank tests showed possible contamination of sampling systems, and really pointed to the importance of blank sampling. Finally, this trial highlighted the need for general guidelines for sampling that could minimize the risk of misclassification of lake-water status.
La directive 2000/60/CE vise à atteindre un bon état des masses d'eaux en 2015 pour l'ensemble des milieux aquatiques européens. À l'intérieur de ce cadre réglementaire, la qualité et la maîtrise des données acquises ont une importance capitale, non seulement pour comparer des résultats à des valeurs seuils, mais également pour identifier avec un degré de confiance suffisant les tendances des niveaux des concentrations en polluants. Les notions de comparabilité des données et d'estimation des incertitudes de mesures sont abordées par les laboratoires à travers notamment la participation aux essais d'aptitude analytique. Cependant, de tels essais portant sur les aspects « échantillonnage » sont pour l'instant encore rares. Depuis 2007, le consortium Aquaref s'est focalisé sur l'amélioration et l'harmonisation des pratiques d'échantillonnage. Un essai collaboratif sur l'échantillonnage d'eau en plan d'eau a été organisé en 2010 pour étudier l'impact des opérations de prélèvement sur la qualité des résultats d'analyse. Coordinateur et promoteur de l'étude, l'INERIS a réalisé, en partenariat avec le LNE(1) et l'Inra(2), ces travaux financés par l'Onema(3).
Fichier principal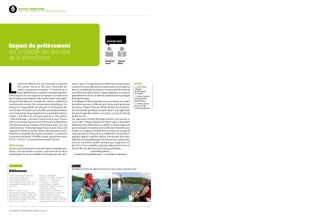 2013-500.pdf (230.63 Ko)
Télécharger le fichier
Origin : Publication funded by an institution