Contribution à l'amélioration de la méthode d'essai ONU N.5 relative à la caractérisation des solides qui dégagent des gaz inflammables au contact de l'eau
A sensitivity analysis of main parameters affecting the measurement of the gas flowrate emitted during testing substances which emit flammable gases where in contact with water, according to UN N.5 test, was performed. Ambient temperature, overall volume of glassware, nature of aqueous media, mass sample and sample-to-liquid mass ratio are not fixed in this procedure. This test is described in the Manual of Tests and Criteria of UN [A]; serving both application of international transport regulations as well as classification of substances according to the EU "CLP" Regulation. The main reason that justifies this research is that the measurement of emitted gases is highly critical in the final classification resulting from the interpretation of the test results. Moreover, that idea has been raised to adapt the UN N.5 test protocol for classifying substances that by contact with water would emit toxic gases. Results confirm that these parameters may play a significant role and alter the final classification resulting from the testing. Guiding principles have also been derived from our measurements and observations towards an improved and more robust UN test protocol in the future.
La méthode d'essai ONU N.5 est destinée à déterminer si la réaction entre une substance et de l'eau conduit au dégagement d'une quantité dangereuse de gaz inflammable. Elle est applicable aux solides et aux liquides, dans leur forme commerciale et à température ambiante. Elle est définie dans les recommandations des Nations unies relatives au transport des marchandises dangereuses [A]. Cette épreuve constitue également la nouvelle référence européenne pour l'application du règlement CLP(1) permettant la classification dans la classe des « substances et mélanges qui, au contact de l'eau, dégagent des gaz inflammables ». L'expérience de la pratique de cette épreuve montre des difficultés d'ordre métrologique, source de nombreuses incertitudes. De plus, certains facteurs influents ne sont pas fixés par la méthode d'essai normalisée. L'enjeu est d'autant plus important que le règlement CLP introduit une mention de danger additionnelle, EUH029 - « au contact de l'eau, dégage des gaz toxiques » -, pour laquelle aucune méthode d'essai n'étant à ce jour définie, l'utilisation d'un protocole d'essai dérivé de la méthode ONU N.5 est envisagée pour justifier ou non l'application de cette mention. L'étude expérimentale a consisté en une étude paramétrique du débit de dégagement d'hydrogène, mesuré au moyen d'un système volumétrique constitué de burettes remplies d'eau, lors de la mise en contact de poudres d'aluminium d'une part et de magnésium d'autre part.
Fichier principal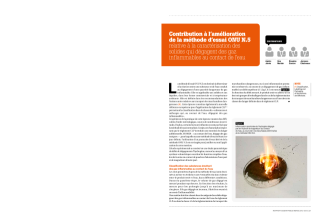 2013-491.pdf (367.96 Ko)
Télécharger le fichier
Origin : Publication funded by an institution