Développement de méthodes alternatives en expérimentation animale : caractérisation de la toxicité et du métabolisme in vitro de xénobiotiques au sein de biopuces hépatiques et rénales
Besides traditional in vitro systems such as plates or Petri dishes, microfluidic biochips have recently gained a remarkable interest. These in vitro systems aim at providing cellular environments close to in vivo conditions to reproduce reliably in vivo mechanisms or metabolic processes. In the framework of the SYSBIOX and μHepaReTox projects, we proposed to evaluate the toxicity and metabolism of xenobiotics in microfluidic biochips in order to assess the relevance of such systems for applications in toxicology and pharmacology. One of the major results was the development of the metabolomicson- chip approach. By combining the latter with the modeling of the intracellular metabolic network, we demonstrated that a microfluidic environment improves cell oxygenation. Our results indicated that the metabolic signature is unique to each biochip (liver, kidney or co-culture) demonstrating the presence of a specific endogenous metabolism directly related to the physiological function of the organ. In the presence of xenobiotics, a unique metabolic response, characteristic of each xenobiotic, is obtained in the hepatic biochip.
En complément des systèmes in vitro traditionnels, les systèmes microfluidiques ont connu récemment un fort développement. Ces microsystèmes, appelés aussi biopuces, permettent une culture cellulaire dans un fluide circulant afin de reproduire l'organisation des cellules au sein des tissus ainsi que les conditions physiologiques d'écoulement qui apportent in vivo des nutriments, de l'oxygène ou des xénobiotiques aux cellules cibles. Parce que cette nouvelle génération de tests in vitro est conceptuellement différente des systèmes traditionnels, il apparaît essentiel d'évaluer leur pertinence pour des applications en toxicologie ou pharmacologie, notamment dans le cadre du développement de méthodes alternatives en expérimentation animale. Nous présentons ici trois aspects traités au sein des projets SYSBIOX et μHepaReTox : la caractérisation du comportement cellulaire, l'évaluation de la toxicité de xénobiotiques par des techniques Omiques et la détermination du métabolisme de xénobiotiques au sein des biopuces.
Fichier principal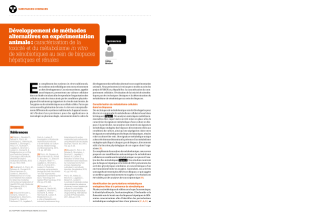 2013-488.pdf (453.97 Ko)
Télécharger le fichier
Origin : Publication funded by an institution