Les effets du clotrimazole sur la stéroïdogenèse testiculaire chez le poisson zèbre
Clotrimazole (CLO) is a pharmaceutical fungicide that has been recently detected in aquatic environment but little is known about its endocrine disrupting potency in fish. In vivo exposures of male zebrafish to CLO led to inductions of steroidogenic gene and protein expressions. Using zebrafish testicular explant culture, no effect of CLO was observed on transcript levels of steroidogenic enzymes but it inhibited 11 ketotestorone (11-KT) release in the medium. It suggests that CLO does not act directly on testis. Induction of these genes could be interpreted as a compensatory biological response to inhibition of cytochrome P-450 dependent steroidogenic enzymes. To support this hypothesis, a network of functional genes of the pituitary-gonad axis was used. We showed that CLO induce a cascade of molecular events in pituitary and testes. Transcript levels of genes encoding for folliculo- stimulating hormone (FSH), testicular FSH receptor and steroidogenic enzymes were induced. These molecular events are consistent with the involvement of FSH in inducing steroidogenic gene expressions to compensate the inhibitory action of CLO on 11-KT synthesis. Our study highlights the relevance of studying a network of genes of the pituitary-gonad axis to investigate the mode of action of compounds acting as inhibitor of P450-steroidogenic enzymes.
Il est aujourd'hui clairement admis que des composés chimiques, d'origine naturelle ou de synthèse, présents dans les milieux aquatiques sont capables de perturber l'endocrinologie et l'homéostasie des organismes. Ces substances, appelées perturbateurs endocriniens (PE), représentent un large éventail de contaminants de l'environnement, qui interfèrent avec le système endocrinien via de multiples modes d'action. Au cours des dernières décennies, de nombreux travaux ont permis de montrer que ces produits chimiques peuvent agir comme des agonistes des récepteurs des hormones stéroïdiennes et induire des effets biologiques similaires à ceux des hormones endogènes. C'est le cas de nombreux produits chimiques comme, par exemple, les alkylphénols ou le bisphénol A, qui miment l'action des oestrogènes et induisent des effets féminisants. Toutefois, d'autres mécanismes peuvent rendre compte de la perturbation endocrinienne chez les organismes aquatiques. En particulier, on sait que les PE peuvent agir sur les cytochromes P450 impliqués dans la stéroïdogenèse. La stéroïdogenèse est le processus responsable de la biosynthèse des hormones stéroïdiennes telles que les oestrogènes et les androgènes, qui jouent un rôle prépondérant dans le développement et la reproduction. Parmi les substances chimiques connues pour agir sur les cytochromes P450, impliqués dans la biosynthèse hormonale, figurent les azoles [A]. Cette famille de molécules regroupe des composés qui sont utilisés dans diverses applications comme agents antifongiques en agriculture, en médecine humaine et vétérinaire. Bien que l'occurrence environnementale de ces composés soit peu renseignée, des études récentes montrent que des azoles tels que le propiconazole, le tebuconazole, le prochloraz ou encore le clotrimazole sont présents dans les effluents de station d'épuration ainsi que dans les eaux de surface. Cependant, les mécanismes et effets in vivo de ces composés sur le système endocrinien et la reproduction des poissons sont peu renseignés. Dans ce contexte, nous nous sommes spécifiquement intéressés aux effets du clotrimazole, une substance pharmaceutique utilisée dans le traitement des mycoses vaginales, sur la stéroïdogenèse testiculaire et la biosynthèse d'androgènes. Pour ce faire, une série d'expérimentations combinant des modèles in vivo et in vitro a été menée chez une espèce modèle largement utilisée en toxicologie et en écotoxicologie, le poisson zèbre (Danio rerio).
Fichier principal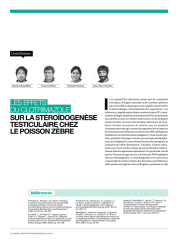 2012-512.pdf (166.82 Ko)
Télécharger le fichier
Origin : Publication funded by an institution