Accompagnement à la maîtrise des risques accidentels associés aux applications innovantes des batteries au lithium-ion
Sustainable development of innovative electric energy storage systems are needed for both mobile and stationary applications. With increased energy and power densities obtained with lithium metal and ion systems, that trigger some atypical hybrid hazard in case of abuse conditions of use, handling or storage, safety focused has been recently promoted at a world-wide level. We briefly update here how far INERIS contributes at national as well as at international level to this research effort, focusing on how this effort has been recently restructured and outlining some important results. Perspectives are also shortly given.
Dans le développement durable de nouvelles filières de stockage propres et sûres d'énergie, nécessaires à la promotion de l'électromobilité et des applications stationnaires, la prise en compte de la sécurité reste un enjeu important. En témoignent les nombreuses initiatives prises aux États-Unis, au Japon ainsi qu'en Europe, pour approfondir les connaissances permettant la maîtrise de ces risques, dans les différents contextes d'utilisation de ces batteries et sur toutes leurs chaînes de valeur. Une sécurité plus délicate à assurer est en effet la conséquence d'un potentiel de performance (densité d'énergie, puissance spécifique) notablement plus grand que celui offert par les technologies antérieures (batteries acide-plomb, cadmium-nickel…). Le phénomène dangereux atypique qu'il convient de contrôler est, dans la plupart des scénarios d'intérêt, l'emballement thermique figure 1 potentiellement amorçable par sollicitations thermique, mécanique ou électrique abusives.
Fichier principal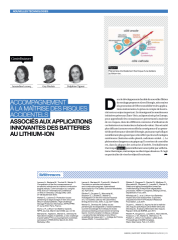 2012-507.pdf (190.68 Ko)
Télécharger le fichier
Origin : Publication funded by an institution