Prédiction et mesure de la chaleur de combustion des liquides ioniques
Ionic liquids (IL) are advanced chemicals promised according to many people to a brilliant future in a number of strategic applications that might serve greener future in chemistry and energy related technological developments. However, lack of appropriate thermodynamic data as well as somewhat misleading discourse presenting IL as inherently safe materials has led INERIS to initiate a thesis work in collaboration with the University of Compiègne and ESCOM with the objective to develop a dedicated and pertinent methodology aiming at characterizing the comprehensive phys-chem hazards profile of such chemical from scratch. The paper here focuses on the initial work that has led to develop a first tool allowing to access to reasonable predictive values of theoretical heats of combustion of ionic liquids for which the elemental composition is known. As a result, validation of 5 preexisting correlation found in the literature for such a use was operated successfully, as well as the development of a purpose built QSPR model based on the implementation of a database of some 50 IL comprising four main groups of ionic liquids for which heats of formation or heats of combustion were available in the open literature. Experimental tools have also been implemented and used to either: obtain additional measurments of theoretical heats of combustion of test samples by use of a bomb calorimetry following ASTM D240 protocol; or measure the effective heats of combustion in fire conditions, by use of the Tewarson apparatus (ISO 12136: 2011) with the acknowledged contribution of two industrial suppliers of IL. Results so far confirm that the combustibility potential as well as the fire behaviour must be assessed on a case by case approach. The work has opened new perspective of collaborative work serving the global objectives of our project.
Les liquides ioniques (LI) sont utilisés dans divers domaines, allant des applications analytiques aux processus de production ou de stockage d'énergie, à l'électrochimie, jusqu'aux sciences des polymères, en passant par les processus photochimiques ou de traitement de la biomasse. Dans le cadre de la thèse d'Alpha-Oumar Diallo, l'INERIS, en collaboration avec l'Université de technologie de Compiègne (UTC) et l'École supérieure de chimie organique et minérale(ESCOM), a initié des travaux sur l'établissement d'une méthodologie cohérente d'évaluation du profil de dangers physicochimiques des liquides ioniques. Ces travaux ont notamment porté sur le développement de méthodes d'estimation de la chaleur de combustion (PCI/PCS)1 représentant un premier indicateur simplifié de potentiels de dangers d'incendie d'une substance.
Fichier principal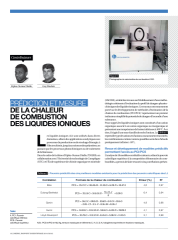 2012-504.pdf (200.52 Ko)
Télécharger le fichier
Origin : Publication funded by an institution