Facteurs humains, management des risques et apport des outils de simulation basés sur la réalité virtuelle
From 2005 to 2010, INERIS has developed a research on human factors and risk management mainly dedicated to the definition of rules, their testing and the training of operators as well as the contribution of simulation tools based on virtual reality. An innovative concept was explored and enriched: RWTD (Right Way To Do). It is defined as the pragmatic and consensual solution to the issue of integration of all the production, safety and environment requirements an operator faces at work. It includes the necessary adjustments that are needed to operate safely and maintain the performance of human safety barriers in degraded environments. Eliciting the RWTD requires to establish the correspondence between risk and task analysis at the right detail level. It also requires to take into account the constraints and capacities of operators in terms of abstraction and representation, self-confidence, resistance to fatigue and stress. All these aspects contribute to the emergence of cognitive trade-offs. The objective is to avoid creating a system that actors couldn't appropriate. The research, based on three case studies in which virtual environments were developed and used, shows that the main contribution of simulation tools lies in this capacity to offer a support for dialogue between actors of the system both during its specification phase and during its use for training, making explicit aspects that are usually hidden or ignored by most actors involved in the design of rules and management systems.
De 2005 à 2010, l'INERIS a conduit une recherche sur les facteurs humains et le management des risques, principalement sur la définition des règles importantes pour la maîtrise des risques, le test et la formation des équipes, ainsi que sur l'apport des outils de simulation basés sur les technologies de la « réalité virtuelle » 1. Cette recherche a été conduite en particulier via un projet européen (Virthualis - Virtual RealiTy and HUman factors AppLications for Improving Safety), un projet national - ANR - (V3S - Virtual Reality for Safe Seveso Subcontractors), et un projet régional avec la Picardie.
Fichier principal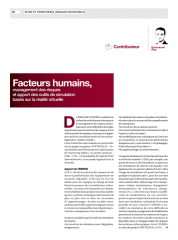 2011-531.pdf (161.51 Ko)
Télécharger le fichier
Origin : Publication funded by an institution