Mise en évidence de l'émission de nanotubes de carbone lors de la combustion de polymères nanocomposites
This study focuses on the potential release of airborne carbon nanotubes (CNTs) from burning injection-moulded nanocomposite polymers. This material is composed of an ABS polymer matrix filled with CNTs (3w%, multi-wall CNTs, length/diameter : 0.1-10 μm/10-15 nm). CNTs have been produced through a catalytic carbon vapour deposition process which uses metallic catalysts. The powder is constituted by entangle bundles of several hundred micrometers resulting with purity of about 90% (the rest is mainly composed of metallic catalysts : Al and Fe). Electronic microscopy analyses indicate that the final product (after mould-injection) is composed by a matrix with CNT bundles dispersed here and there. Our experiment relies on new home-made demonstrator system that was setup at INERIS specifically for testing the release of nanoparticles during combustion of polymeric products. Differential thermal analysis measurement helped to monitor the combustion kinetics. In parallel the particle size distribution was recorded via an electrical low pressure impactor (ELPI). Finally the sampling was performed thanks to a new device that enables retrieving the morphological and the chemical composition of airborne particles by the analysis of TEM grids. Our results demonstrate that, during the combustion of the tested polymer nanocomposite, a fraction of CNTs is released in the fumes while the other fraction is destroyed by the oxidation process, thus releasing their catalysts in the ashes. This addresses a new kind of safety issues in regard to the combustion of these products.
Les nanotechnologies se développent rapidement et génèrent de nombreux matériaux innovants aux applications les plus diverses. Cette évolution technologique concerne notamment l'industrie des matières plastiques ou des additifs couramment utilisés dans la fabrication des matériaux polymères pour obtenir des matériaux plastiques et des polymères composites renforcés. Si l'incorporation de nanomatériaux manufacturés peut présenter une percée majeure dans ce secteur, elle peut aussi entraîner de nouveaux risques au cours du cycle de vie du produit, en cas de libération des charges contenues dans la matrice polymérique. Notre étude apporte un élément de réponse à cette problématique en identifiant et en caractérisant les émissions de nanotubes de carbone lors de la combustion de polymères nanocomposites.
Fichier principal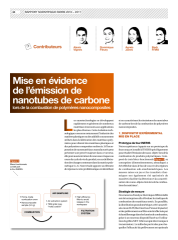 2011-518.pdf (327.8 Ko)
Télécharger le fichier
Origin : Publication funded by an institution