Impacts de fragments et vulnérabilité des installations industrielles
The explosion of industrial facilities such as pressure vessels or reactors can produce many fragments. These fragments can originate a socalled domino effect if they impact other storage tanks or pressurized enclosures, which, in turn, can burst. This paper depicts the stochastic approach of an elementary cycle of the phenomenon. It has been implemented since 2005. It is based on the principle of entropy maximum. To do so, the main features of the projectiles (number, shape, mass, departure velocity and departure angles) have been developed with probability density functions (p.d.f.). These p.d.f. are the data injected in a further step of the study in order to appreciate the industrial risk. Then the trajectories of the fragments and their impact with targets have been modeled on the base of geometric relationships. The impact probabilities are estimated from the results of a Monte-Carlo simulation. In addition, interaction models between the projectiles and the target have been implemented, partly from the existing literature and to a certain extent from experiments driven by NEXTER, a partner in the project. These models are used to estimate the damage produced by the fragment on the target. Crossed with the life cycle state of the target (e.g. full or empty for a storage tank), the result can help to predict the continuation of the domino effect cycle.
Un site industriel peut abriter plusieurs réservoirs cylindriques sous pression contenant du gaz ou des liquides. Une surpression, une agression mécanique, thermique ou autre peuvent conduire à l'éclatement d'un de ces réservoirs. Cet te explosion peut générer des fragments (f igure 4) qui peuvent impacter d'autres équipements, voire pénétrer partiellement ou perforer complètement ces derniers [1]. Un nouvel accident peut alors se produire et générer de nouveaux projectiles, eux-mêmes initiant d'autres accidents. Cet enchaînement catastrophique constitue un effet domino qui peut faire de nombreuses victimes : plus de 650 morts à Mexico en 1984, par exemple. Une méthode globale de traitement de ce phénomène a été développée. À son stade initial, elle a fait l'objet d'une présentation dans le rapport scientifique 2006-2007 de l'INERIS. Depuis, les différentes étapes de ce modèle stochastique ont été affinées.
Fichier principal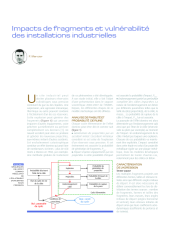 2010-474.pdf (115.59 Ko)
Télécharger le fichier
Origin : Publication funded by an institution