Biodistribution et élimination de nanotubes de carbone instillés dans les poumons de rats
Background: Constituted only by carbon atoms, CNT are hydrophobic and hardly detectable in biological tissues. These properties make biokinetics and toxicology studies more complex. Methods: We propose here a method to investigate the biopersistence of CNT in organism, based on detection of nickel, a metal present as trace in the NTC we investigated. Results and conclusion: Our results in rats that received NTC by intratracheal instillation, reveal that NTC can be eliminated and do not significantly cross the pulmonary barrier but are still present in lungs 6 months after a unique instillation. NTC structure was also showed to be chemically modified and cleaved in the lung. Long-time presence of NTC in the lung is associated with lung induction of cytochrome P450 1A1 and 2E1 mRNA suggesting a possible role of these enzymes in NTC clearance. These results provide the first data of CNT biopersistence and clearance at 6 month after respiratory administration.
La structure physique des nanoparticules (NP) leur confère des propriétés physicochimiques et biologiques différentes de celles du même composé de taille micrométrique. Par exemple, les défauts de structure semblent jouer un rôle au niveau de la toxicité et l'élimination des nanotubes de carbone. Ainsi, une utilisation de NP est envisagée dans de nombreuses industries. En effet, les produits suivants sont déjà commercialisés : des textiles insalissables recouverts d'une pellicule de nanoparticules d'argent, des verres autonettoyants sur lesquels ont été déposées des couches minces d'oxyde de titane, des cabines de douche, des éviers ou des carrosseries recouvertes de nanofilms, des dentifrices au nanophosphate de calcium qui comblent les minuscules fissures des dents, des produits solaires au dioxyde de titane, de rouges à lèvres à l'oxyde de zinc pour améliorer la tenue, des vernis à ongles enrichis en oxyde de zirconium. Parmi les NP les plus utilisées, on distingue notamment les nanotubes de carbone (NTC). Malheureusement, à l'heure actuelle, la toxicité potentielle de cette NP reste encore mal connue. De par leur faible taille, les NTC peuvent être remis aisément en suspension dans l'air et la voie pulmonaire est une voie privilégiée d'exposition à ce type de composé. L'étude de la toxicité pulmonaire d'une particule implique l'analyse de sa biopersistance c'est-à-dire du temps au cours duquel le NTC reste au niveau de chaque organe, de son élimination mais aussi de sa capacité à passer la barrière alvéolo-capillaire entre le poumon et le sang. Les NTC étant constitués d'atomes de carbone, leur dosage est particulièrement difficile dans les milieux biologiques qui sont eux-mêmes très riches en carbone. Dans ces conditions, il est fait appel à des méthodes de dosage indirect reposant sur l'analyse des catalyseurs métalliques qu'ils renferment. En effet, leur synthèse nécessite la présence de ces catalyseurs métalliques qui ne peuvent pas être totalement éliminés lors de la purifi cation de ces NTC.
Fichier principal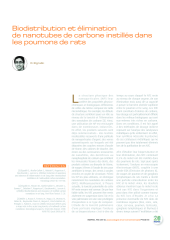 2010-462.pdf (109.01 Ko)
Télécharger le fichier
Origin : Publication funded by an institution