COMRISK : pour l'implication des populations dans la gestion des sites ou sols pollués
INERIS and IRSN, with the Cire Ile de France, have developed for ADEME a guide and a toolbox for organising public involvement in the assessment and the management of contaminated sites. The guide and the toolbox propose operative recommendations, background documents, FAQ, and a set of slides, leaflets and "event supports" about contaminated site. They are intended for all stakeholders including the public, and are available on www.comrisk.com Communication at a contaminated site should take into account all siterelated concerns and expectations: health risks, but also property value, employment concerns, local conflicts, relation to the local environment, etc. Respect, honesty, humility are key requirements. Public involvement actually helps find the best solution for the site. The guide helps analyse the context, define the objectives and a strategy for the public involvement, and choose and adapt involvement tools.
Les populations sont de plus en plus considérées comme parties intégrantes de l'évaluation et de la gestion des risques liés aux sites pollués. Mais leur implication est également reconnue comme un exercice difficile, mal maîtrisé, voire périlleux. L'INERIS et l'IRSN (Institut de radioprotection et sûreté nucléaire), en collaboration avec la Cire Ile-de-France (Cellule interrégionale d'épidémiologie d'Ile-de- France), ont développé pour l'ADEME un guide et une boîte à outils pour aider à concevoir et mettre en place un dialogue entre acteurs sur l'évaluation et la gestion d'un site pollué. Le guide et la boîte à outils s'adressent à tous les acteurs des sites et sols pollués. Ils sont accessibles sur www.comrisk.fr. Le guide et la boîte à outils sont fondés sur une étude approfondie de l'état des connaissances et des pratiques concernant la perception et la communication des risques, et aussi l'implication opérationnelle des populations dans l'évaluation et la gestion des risques liés à l'environnement : sols pollués mais aussi décharges, installations classées, risques naturels (effondrement…), implantation d'une antenne relais… Le guide est largement applicable à ces autres questions locales de risques liés à l'environnement.
Fichier principal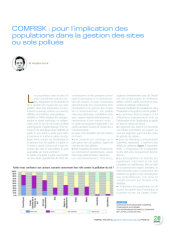 2010-459.pdf (167.54 Ko)
Télécharger le fichier
Origin : Publication funded by an institution