Mise au point d'une nouvelle méthode de prélèvement pour l'analyse des composés organiques semi-volatils
It is now recognised that indoor environments contribute significantly to human exposure to airborne pollutants. Among the chemicals released in indoor environments, some of them have been identified as hormonally active or carcinogens. The objective of this study has been to develop an analytical method based on thermal desorption (TD) for the measurement of semivolatile organic compounds (SVOCs) to be use for indoor and personal measurements. The sampler consists of a small PM2.5 impactor upstream of a sample tube filled with the adsorbent Tenax TA to collect the particulate and gaseous phases respectively. The experimental work focused on the development of a vapour generation system, the development of the analytical method for the analysis of both the gaseous and particulate phases and the evaluation of the performance of the developed method. The analytical method was developed for 16 PAHs, 6 OPAHs, 5 phthalates, 2 organophosphate esters, 3 alkylphenols and 5 pesticides. Its applicability for PAHs measurements was verified with a standard reference material and by comparison of indoor air filter strips analysed by the TD method and a conventional solvent extraction method. The TD method was shown to be quantifiable for PAHs up to benzo[a]pyrene but less effective for less volatile PAHs. A small demonstration study consisting of twenty four hours indoor and personal measurements was carried during six days. The results obtained in this demonstration study were in agreement with most previous studies reporting indoor heavy PAHs concentrations lower or similar than outdoor PAHs concentrations and light PAHs concentrations higher indoors than in outdoor environments. This demonstration study also confirmed that phthalates and organophosphate esters are ubiquitous in indoor environment.
Il est maintenant reconnu que l'air intérieur contribue à l'exposition individuelle aux polluants atmosphériques de façon très significative. Le temps passé dans les environnements intérieurs est largement supérieur à celui passé à l'extérieur, de plus, certaines sources de pollution y sont spécifiques. Parmi les nombreux composés identifiés dans les environnements intérieurs plusieurs sont considérés comme toxiques voire cancérogènes. Parmi les sources de polluants spécifiques aux environnements intérieurs on peut citer : la combustion (fioul, gaz, charbon, bois, tabac), les matériaux de construction et de décoration (peintures, bois aggloméré, colle), les détergents, les produits d'entretien. À ces sources se rajoutent bien évidemment les sources de pollution extérieure. Les différentes substances organiques ainsi présentes peuvent être classées dans quatre catégories distinctes, afin de faciliter leur identification et leur caractérisation : • les composés organiques très volatils, • les composés organiques volatils (COV), • les composés organiques semi-volatils (COSV), • les composés organiques particulaires (adsorbés sur les particules présentes dans l'air). Par ailleurs, l'utilisation des appareils de mesure portatifs se développe pour caractériser l'exposition individuelle de manière globale, en intégrant les différents lieux de vie et les déplacements. Cependant, si des appareils portatifs de mesure pertinents sont disponibles sur le marché, d'une part pour les polluants gazeux, et d'autre part pour les particules, les appareils disponibles pour la mesure de COSV ne permettent pas d'atteindre les limites de détection suffisantes pour appréhender les expositions individuelles, alors qu'il s'agit parfois de substances représentant des potentiels de risques sanitaires préoccupants. Dans ce contexte, l'objectif de la présente étude était de s'intéresser à la mesure des COSV, qui se trouvent, par définition, à la fois en phase gazeuse ou en phase particulaire (tension de vapeur de 10-2 à 10-8 kPa).
Fichier principal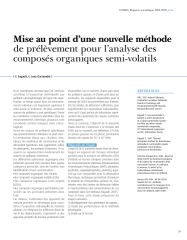 2009-441.pdf (136.91 Ko)
Télécharger le fichier
Origin : Publication funded by an institution