La prise en compte des facteurs organisationnels dans la maîtrise des risques
A research was carried out between 2005 and 2007 on organisational safety. Following progress in the understanding of the organisational contributions to safety through previous empirical and theoretical works (i.e. high reliability organisations, normal accident, normalisation of deviance etc.), the purpose was to develop a method for risk assessment. We used scientific inputs from safety management, organisational sociology and anthropology, either from studies after accidents or during normal functioning. The strategy of the research was an interdisciplinary one combining several disciplines from engineering to social sciences. The articulation of the disciplines proved very useful to establish links between technical and social dimensions of the systems that we studied: a SME and a major international group, both in the chemical industrial. The method developed from the project consists in questioning the real functioning of the process safety management system. A process safety management system can be seen as a number of tools, methods or principles that are meant to ensure safety, linked all together (i.e. risk analysis, learning from experience, management of change etc.). In reality, fully implementing all of them is difficult. Tradeoffs are always made and biases exist in the way the tools and principles are implemented. What is interesting is to understand with the help of social insights the reasons behind these tradeoffs and biases. A subsequent question interesting is to try to understand how they impact the ability of the company to ensure safety.
Des travaux de recherche sont menés à l'INERIS sur l'intégration des facteurs organisationnels dans l'évaluation des risques d'installations industrielles dangereuses. Le regard est porté sur les structures organisationnelles ainsi que sur les interactions entre les différents acteurs internes individuels et collectifs (opérationnels, gestionnaires, ingénieurs, CHSCT, services) et externes (inspections et autorités de contrôle, associations de riverains, sièges des entreprises, etc.) au sein de ces organisations. Ces travaux sont alimentés par les connaissances issues de l'étude des accidents majeurs sous l'angle des facteurs organisationnels, qui fournissent des données essentielles. Ils sont également alimentés par les travaux dits en fonctionnement normal, qui correspondent aux études réalisées sur le quotidien du fonctionnement des organisations à risque.
Fichier principal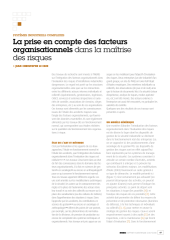 2008-435.pdf (75.2 Ko)
Télécharger le fichier
Origin : Publication funded by an institution