Épisodes de pollution particulaire en Europe au printemps 2007
A dust event was observed in Europe on March 23-25, 2007. Surface observations in Central Europe showed huge concentrations values of particulate matter. Lidar measurements and surface stations in Eastern Europe diagnosed a dust event originating from Ukraine related to chernozemic erodible lands. Using new surface and satellite measurements with modeling results, it is demonstrated that the finally huge surface concentrations recorded in the Netherlands, Belgium and the North of France were mostly due to the extremely rare Ukraine dust event whereas Saharan dust events usually produce only mid-troposphere plumes. Over Western Europe the model reproduces the observed PM concentration peaks up to 200 μg.m−3 with a large contribution of Ukraine dust, up to 170 μg.m−3. Most generally, in Spring 2007, several particulate matter episodes occurred over the Western part of Europe as shown by ground base and satellite measurements. In March and April, 2007, daily PM10 concentrations often exceeded the regulatory public information threshold (50 μg.m−3). These events were largely due to high amonium nitrate contents in particles, concomintant to high air temperatures favoring ammonia volatilization from soil. From January 1st, 2007, France has set up a method to correct PM observations issued from automated devices (TEOM). Such devices evaporate the volatile fraction of particles and a correction factor is usually applied in Europe, but this method fails to capture some of the highest PM concentrations. The chemistry transport model CHIMERE fairly reproduces the temporal evolution of amonium nitrate concentrations.
Le 23 mars 2007, une tempête en Ukraine a soulevé un panache de poussières par érosion éolienne des terres agricoles. Les terres arables ukrainiennes sont des sols facilement érodables (tchernoziom), ces sols ayant, de plus, subi une sécheresse inhabituelle durant les trois semaines précédant l'événement. Ce panache, essentiellement composé de poussières minérales, s'est rapidement dirigé vers l'Europe de l'Ouest grâce à un flux d'Est soutenu. Les concentrations en PM10 occasionnées par cet événement approchaient les 1400 µg m-3 en Slovaquie et 500 µg m-3 en Allemagne. Lors de l'arrivée du panache sur le Nord de la France dans la nuit du 24 au 25 mars 2007, les concentrations ont augmenté brutalement pour atteindre 150 à 200 µg m-3 soit environ 10 fois plus que le niveau de fond généralement observé. Le panache a pu être détecté jusqu'en Irlande du Nord. En France, le panache s'est déplacé de l'extrême Nord de la France vers le Nord de la Bretagne en suivant la Manche, il a frôlé la région parisienne avec une très légère augmentation des concentrations sur l'Ouest de l'Ile-de-France. Le satellite CALIPSO équipé du Lidar CALIOP est passé le 23 mars 2007 entre 10:00 et 11:00 TU au-dessus de l'Ukraine. Le Lidar permet de détecter la présence d'épisode de pollution et de déterminer le profil vertical de l'atmosphère. La présence de fortes concentrations de particules au-dessus de l'Ukraine a permis de valider l'hypothèse avancée sur l'origine ukrainienne de cet événement de poussières et d'écarter l'hypothèse d'une intrusion de poussières sahariennes. C'est la première fois que l'on met clairement en évidence un tel épisode ayant pour origine l'Europe.
Fichier principal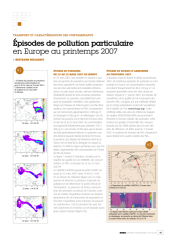 2008-434.pdf (1.17 Mo)
Télécharger le fichier
Origin : Publication funded by an institution