Téléphonie mobile et neurotoxicité sur le système nerveux central
The aim of this project is to better evaluate whether radiofrequency electromagnetic fields emitted by mobile phones constitute or not a health risk for users. Two topics have been developed those last years : experimental work on rats to look for biomarkers of activation, inflammation and behaviour ; look at some biomarkers in humans after using a mobile phone. A head only exposure set-up was used to reproduce the users exposure. Dosimetry has been performed on 250g rat model to determine the influence of different parameters (skin, skull,..). Previously, Brillaud et al. [2007] showed the existence of glial reactivity 2 days after a 15 min GSM 900 MHz acute exposure at a brain averaged SAR = 6 W/kg, but no longer after 10 days. In this work we measured GFAP expression in rats, to evaluate glial evolution up to 10 days after exposure to GSM signal for 45 min at SAR = 1,5 W/Kg and for 15 min/day at SAR = 6 W/Kg in the rat brain areas: prefrontal cortex (PfCx), cerebellum cortex (CCx), dentate gyrus of hippocampus (DG), lateral globus pallidus of striatum (LGP), and caudate putamen (Cpu). In comparison to sham rats, rats exposed to sub-chronic GSM signal at 1,5 W/kg and 6W/Kg show a GFAP increase in different brain areas after 3 and 10 days. Given morphological differences, brain-averaged SAR in rat is equivalent to 4 times the same SAR in human brain, which prevents from extrapolating the obtained results to human. The c-Fos protein appears useful to identify reactive brain areas and orient towards adequate behavioural tests. However, its variation is limited and does not show a linear dose-response, and hence cannot be used to detect cumulative effects. Animals were tested for a learning task just after exposure. No effect on learning or spatial memory has been seen, either for acute exposures, neither for chronic or semi-chronic exposures. Studies in volunteers showed an increase in aldehyd and alveolar isoprene, but large inter- and intra-individual variability don't garantee the robustness of this result. More expert analysis needs to be achieved to look if a study with more volunteers would be worth to perform.
Les champs radiofréquences (RF) font partie de notre entourage quotidien. Depuis quelques années, l'utilisation de téléphones cellulaires émettant des RF à proximité de la tête et donc du cerveau pose le problème de l'éventuelle influence des ondes RF sur le système nerveux central (SNC). Des travaux de recherche récents montrent des effets de champs électromagnétiques radiofréquences sur des marqueurs biochimiques dans le cerveau du rat, que ce soit concernant l'activité neuronale, la liaison de neurotransmetteurs à leurs récepteurs ou plus particulièrement le marqueur de neurotoxicité GFAP (Glial Fibrillary Acidic Protein) (O'Callaghan and Sriram, 2005 ; Ransom et al, 2003). Concernant ce dernier, son évolution peut être le signe d'une modification temporaire (inflammation) ou persistante (gliose), pouvant entraîner des conséquences physiologiques. Il est donc important d'étudier ce marqueur de neurotoxicité pour comprendre les mécanismes sous-tendant un effet et d'en mesurer l'impact (études expérimentales chez le rat). Par ailleurs, les résultats d'études animales ne pouvant pas toujours être extrapolées à l'homme, il a paru important de rechercher chez des volontaires exposés si l'on pouvait mettre en évidence une modification de marqueurs de l'inflammation à l'aide d'examens non ou très peu invasifs (étude de biomarqueurs chez l'homme).
Fichier principal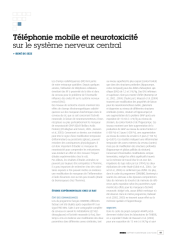 2008-431.pdf (116.54 Ko)
Télécharger le fichier
Origin : Publication funded by an institution