Dynamique de mouvements de versant : mécanismes de déformation complexes et analyse de données multi-paramètres
In this paper, we present an integrated monitoring solution that has been installed on the Sechilienne rock slope for four years. This solution provides suiface measurements as weil as in-depth measurements used to 1- better understand the response of the slope to hydro-climatic stresses, 2- better quantify the 3-D kinematics of the movements and 3-identify active in-depth failure zones. At this stage, the feedback confirma the existence of self-accelerating deformation mechanisms and their complex nature. Indeed, the development of a predictive model from conventional statistical methods is difficult without modelling of the physical phenomena involved. Similarly, the location of microseismic sources is difficult due to the complex signatures observed in seismograms.
Dans cette communication nous présentons une solution de surveillance instrumentale déployée sur le mouvement de versant de Séchilienne depuis quatre ans. Cette solution fournit des mesures de suiface ainsi que des mesures en profondeur mises à profit pour tenter 1- de mieux comprendre la réponse du versant aux sollicitations hydraclimatiques, 2- de mieux appréhender la cinématique 3D des déformations et 3- d'identifier les zones actives de rupture en profondeur. A ce stade, le retour d'expérience confirme le caractère auto-accélérateur des mécanismes de déformation et leur complexité. En effet, l'élaboration d'un modèle prédictif à partir de méthodes statistiques classiques est difficile sans modélisation des phénomènes physiques en jeu. De même, la localisation des ruptures microsismiques est délicate car les sismogrammes présentent des signatures complexes avec des arrivées d'ondes émergentes.
Fichier principal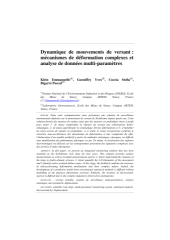 2014-061_post-print.pdf (280.58 Ko)
Télécharger le fichier
Origin : Files produced by the author(s)